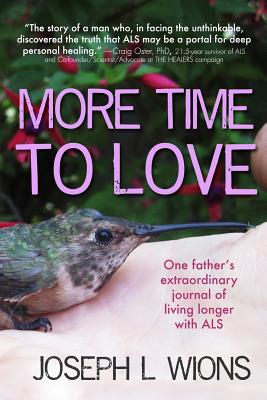 More Time to Love
Paperback

* Individual store prices may vary.
Description
When given a diagnosis of ALS, most victims make peace with a 2-3 year death sentence. Joe Wions, an energetic and positve management consultant with two children, a wonderful wife, and a community he loved, decided instead that he would live.
More Time to Love, Joe takes readers on a journey from nightmares to miracles. Feeling betrayed by Western medicine, which offers no cure, he sets out on a quest for alternatives, and makes some mind-blowing discoveries. From a German doctor who heals with electromagnetic wave machines to a Chinese doctor who gives brain injections, he details options for detoxification and rejuvenation treatments in cheerful email updates to his friends. Over the first five years, he slows the disease but can't stop it, sharing every aspect from the emotional loss that accompanies each new physical limitation, to harrowing chases to stay ahead of his decline.
Determined to find a cure, Joe takes some alarming risks with new diets and therapies, and finally turns a corner when he unlocks the keys to his mind. Joe shares his findings from the kaleidoscope of treatments that helped him live more powerfully and happily in the most helpless of situations. This beautiful and well-paced story of gratitude is helpful for all those who face chronic illness of any kind.
A glossary of 30+ little-known terms and treatments will inform reader on every healing adventure.
Uplift Press, 9780962283468, 290pp.
Publication Date: January 28, 2017