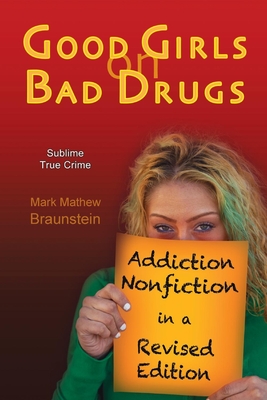 Good Girls On Bad Drugs
Addiction Nonfiction in a Revised Edition
Paperback

* Individual store prices may vary.
Description
Good Girls on Bad Drugs portrays the shattered lives of girls next door who became crack, coke, opioid, and heroin addicts, and who in their hustle for drugs became streetwalkers and internet escorts. In jailhouse journals and interviews, they confess with candor and courage to their sex work and drug crimes. Doomed by their addictions, most girls never recover, while others die young from AIDS, OD, or murder. Here a spotlight is shined upon 22 lives. One chapter, one life. And sometimes one death.

Living and dying on the fringes of society, four fatally overdosed, including Olivia, a 17-year-old internet escort whose death exposed a prostitution ring. Renee, Michelle, and Hope were murdered by johns. Liz was an accessory to two murders. Darlene, after her prison break, was hunted in two states. Heather robbed six banks in three states in six consecutive days. All their photos and interviews are included in these dramatic true crime stories about some guys' lust for sex and these girls' thirst for drugs.

CONTENTS:

Part One – The UNDERWORLD:
01 – MARIE - A Shadowy Figure Afoot Flashes "The Look";
02 – LINDA - Mr Crack Introduces Ms Jane to Mr John;

Part Two – The INTERNET ESCORTS:
03 – NORWICH and the Bad Bets on the Foxwoods and Mohegan Sun Casinos;
04 – LADY LUCK - The Escorts' Guide to the Casinos;
05 – THE THREE GRACES - Outcasts on Outcalls;
06 – DEVON - Casino Escort of Last Resort;
07 – OLIVIA - The Grisly Death of the Girl from Griswold;
08 – KATRINA - Life as Hurricane;
09 – HOPE - Topless Dancer in a Bottomless Pit;
10 – LYNNE - The Crackhead Addicted to Prostitution;

Part Three – The STREETWALKERS:
11 – NEW LONDON - A Whale of a Tale and a Tail of a Whale;
12 – COPS & RUBBERS - The Streetwalkers' Guide to the City;
13 – HEATHER - The Seriously Serial Bank Bandit;
14 – RENEE - A Connecticut Lawyer in Judge Arthur's Court;
15 – TRISH - Off to See the Wizard of Poz;
16 – JESSICA - The Prodigal Mom;
17 – DARLENE - Escape to Never-Never Land;

Part Four – The HEROIN HEROINES:
18 – WILD and ANTIC WILLIMANTIC - The Riddle of the Syringe;
19 – JOE the JOHN - And Now a Word from Our Sponsors;
20 – LIZ - Woman Who Runs with the Werewolves;
21 – JENNIFER - Beauty and the Beasts;
22 – BONNIE - She Takes the High Road and He Takes the Low Road;
23 – AMBROSIA - Walking through the Valley of the Shadow of Death;

Part Five – ANOTHER WORLD:
24 – ROBIN - The Prosthetic Prostitute;
25 – SEX for HIGHER - A Eulogy;

APPENDICES:
Documentation;
Further Reading;
List of 41 Photographs;
Glossary of Street Slang
Panacea Press, 9780963566348, 250pp.
Publication Date: March 4, 2019
About the Author
Mark Mathew Braunstein was released into the community after 33 years of solitary confinement as an art curator and college librarian, two professions notorious for harboring dangerous criminals. His writer rap sheet includes four other propagandizing books, including one that the Washington Post denounced for being "remarkably intelligent." He has contributed more than one-hundred ephemeral articles to pedantic academic journals and to glossy consumerist magazines that include Backpacker, Vegetarian Times, New Mobility, and Natural Health, all about an array of topics such as art history, literary criticism, holistic health, wildlife conservation, animal rights, vegetable lefts, vegan vegetarianism, indoor gardening, mobility disability, medical marijuana, cannabis culture, and drug law reform. Many of his articles can be read at: www.MarkBraunstein.Org
or
Not Currently Available for Direct Purchase