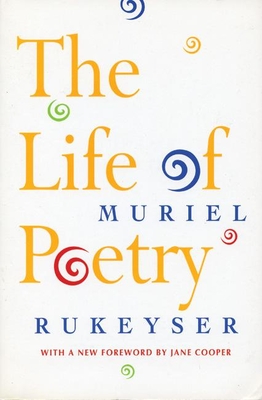 The Life of Poetry (Paperback)
Wesleyan University Press, 9780963818331, 256pp.
Publication Date: September 1, 1996
* Individual store prices may vary.
Description
Observing that poetry is a natural part of our pastimes and rituals, Muriel Rukeyser explores the vital force of poetry and the arts in American culture. She opposes elitist attitudes and addresses Americans' fear of feeling, which contribute to a devaluation of poetry and the arts in the U.S. Multicultural and interdisciplinary, this collection of essays makes an irrefutable case for the centrality of poetry in American life.
About the Author
Muriel Rukeyser (1913-1980) is one of our country's most influential yet neglected writers. She published fifteen collections of poetry, plays, translations, children's books, and several works of nonfiction. Her "toys of fame" include the Yale Younger Poets Award, the Copernicus Award from the Academy of Arts and Letters, and the Shelley Memorial Award. From 1975-1976, she served as president of P.E.N. American Center
Praise For The Life of Poetry…
"The Life of Poetry has the urgency of saying what one believes in the face of crisis— crisis of the spirit and crisis in the world. Rukeyser's book is about poetry, always, and also about much more modern film, jazz, war, science, musical comedy, her own childhood and youth. A brilliant mind fiercely at work." THE NEW YORK TIMES BOOK REVIEW

Muriel Rukeyser loved poetry more than anyone I've ever known. She also believed it could change us, move the world. This deep and challenging book is a testament to her faith that we need not encounter Poetry with fear. That openness to Poetry opens us to our most essential inner life." ALICE WALKER

The Life of Poetry is a lost American classic restored to us by Paris Press. In 1949 Rukeyser understood the breadth and potential of our continent's poetries as few have done since as we look in the face of the fear of poetry' she name, and its monsters, this book seems written for us. What does poetry have to do with democracy? Read it here. Jane Cooper's forward provides a vivid context." ADRIENNE RICH

"Like most of Muriel Rukeyser's work, The Life of Poetry has been out of print for twenty years, so its reappearance is a genuine cultural event. Written in an expansive prose - poetic style, it's a scarily beautiful book, almost disorienting in its clarity. Muriel Rukeyser unspools one of the most passionate arguments I've ever read for the notion that art creates meeting places, that poetry creates democracy.The passion she speaks of is worthy of our fear. It's history." THE NATION

"The Life of Poetry is a heartfelt, majestic testimonial, entirely without the shortcomings of its genre. It is highly charged, emotionally, and full of beautiful, sonorous language, but its greatest virtue is that it has a bold thesis, bluntly stated: Poetry can save your life." THE PROVINCETOWN BANNER

"The reappearance of [Muriel Rukeyser's] remarkable The Life of Poetry, originally published in 1949, is an event to celebrate. No ordinary book of criticism, The Life of Poetry is written in a prose which resembles lava overflowing, molten, incoherent, cooling into shapes whose seeming resistance to hard-edged form bespeaks the intense intellectual heat and explosiveness of their origin. To read it is to enter a mind seething with the flow of connection between poetry and everything else." THE HUNGRY MIND REVIEW