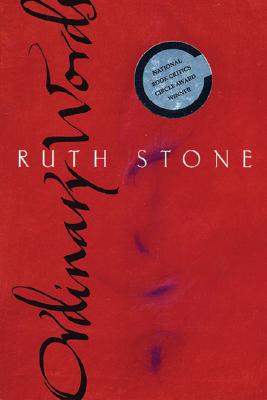 Ordinary Words
Hardcover

* Individual store prices may vary.
Other Editions of This Title:
Paperback (2/1/2000)
Description
Ordinary Words is the luminous, wild, and lyrical collection of poetry that brought Ruth Stone the critical acclaim she long deserved with the National Book Critics Circle Award, and it paved the way to the National Book Award and long-deserved critical attention. Ordinary Words captures a unique vision of Americana, marked by Stone's characteristic wit, poignancy, and lyricism. The poet addresses the environment, poverty, and aging with fearless candor and surprising humor. Sister poet to Nobel Prize-winner Wislawa Syzmborska, Ruth Stone offers a view of her country and its citizens that is tender humorous, and filled with hard political truths as well as love, beauty, cruelty, and sorrow. Ruth Stone is a poet of the people, and poet's poet. Ordinary Words shows that poetry is about everyday life, our life. Poems are set in Rutland, Vermont; Indianapolis; Chattanooga; Houston; Boise; and Troy, New York (where celluloid collars were made). Stone's subjects are trailer parks, state parks, prefab houses, school crossing guards, bears, snakes, hummingbirds, bottled water, Aunt Maud, Uncle Cal, lost love, dry humping at the Greyhound bus terminal, and McDonalds as a refuge from loneliness. Her heroes are dead husbands, wild grandmothers, struggling daughters: ordinary Americans leading simple and extraordinary lives.
Praise For Ordinary Words…
"In direct, plain language, Ruth Stone fashions a poetry that is neither encumbered by decorative artifice nor burdened by the obscurity so often cited as a complaint against contemporary poetry. Stone's tone is rarely ironic, her diction never flat. She balances the formal aspects of her poems with the necessity of her subject matter: observations of everyday life, the pain of lost love, the passing of generations of relations, and the peregrinations of an octogenarian at century's end. In a world so desperate for voices to instruct troubled souls, Ruth Stone's poetry is a reminder of the beauty in pain and loss, and the extraordinary in ordinary words. Readers of good, straightforward poetry are missing out if they have not yet come across the work of Ruth Stone." THE PHILADELPHIA INQUIRER

"Call her brilliant, call her prolific just don't call her 'octogenarian'. 'That's a put-down' in this culture, says poet Ruth Stone of press coverage that typically led with her age (84) in trumpeting her latest professional achievement winning the respected National Book Critics Circle Award for her 11th book, Ordinary Words. There is a place for poetry in our hurry-up, dot.com world, says Stone, a professor of English at the State University of New York at Binghamton. 'I speak to my students about this universe we carry around on our shoulders this head, which has in it everything we've ever seen or read or experienced,' says Stone. 'When you allow your mind to speak to you [through writing], it is one of the greatest things human beings do." AARP BULLETIN
Paris Press - Paris Press, 9780963818393, 96pp.
Publication Date: April 1, 1999
About the Author
Ruth Stone is the author of 13 books of poetry, for which she has received the National Book Award, the Wallace Stevens Award, a National Book Critics Circle Award, and the Shelley Memorial Award. She taught creative writing at many universities, finally settling at SUNY Binghamton. She lived in Vermont until her death in 2011.
or
Not Currently Available for Direct Purchase