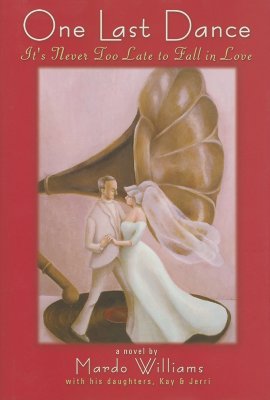 One Last Dance (Hardcover)
It's Never Too Late to Fall in Love
Calliope Press, 9780964924147, 422pp.
Publication Date: September 1, 2005
* Individual store prices may vary.
Description
A story about finding love at any age, One Last Dance is the delightful tale of Morgan, aged 89, and Dixie, 79, two ?mature? individuals on seemingly divergent paths. Despite their disastrous first meeting, complete with a ruined birthday cake, broken eyeglasses and insulting remarks, it was obvious to bystanders, even then, that the two were fated for each other. Dixie and Morgan begin to date and ultimately decide to move in together ? for economic reasons, they agree. But the business-only relationship changes and strengthens as the couple unite to combat illness, scandal, and a near-fatal accident. The story also reveals how past insecurities, humiliations, and fears can haunt a person throughout his days. Dixie fears intimacy. Morgan has concealed important details about his divorce, his estranged children, and his lost job. And all the while, a mysterious intruder lurks, bent on vengeance for past wrongs. He invades their lives, exposing their most intimate secrets and li.
In the novel, Dixie is 79 and Morgan is 89. How realistic is it to expect to fall in love at that age? Discuss the complications of romance and marriage at this stage in life. Also talk about the advantages.
Dixie would possibly like a relationship but does not want to turn into a caregiver. Do you think she is selfish? Would you take the kind of risk she takes by inviting Morgan into her life? Discuss your thoughts about whether women manage being alone better than men do.
Dixie has concerns regarding Morgan's past. Is she right to be worried? Has Morgan been treated fairly by his family? Did he create some of his own problems? Grandson Tony has been led to believe that his Grandpa is wealthy. How do Tony's family, friends and the people he meets in Columbus influence Tony's outlook and attitude? Discuss how Officer Pfeiffer handles Tony. How does Tony impact the lives of Dixie and Morgan?
In the story, Dixie struggles to keep her house up and considers taking in a boarder. For retirees, finances can be a huge issue even with the best of planning. The thought of losing independence is painful. Mov­ing to a retirement home means giving up privacy and independence for the rest of life. The novel also touches on end-of-life choices. How do we prepare to face these difficult decisions?
After the accident, Morgan's recovery is slow—in part due to his age. Dixie ends up being the caregiver after all and cannot go to her job even though she has bills to pay and needs the money. Morgan ends up in Whispering Pines Nursing Home and Dixie must face the cold hard facts of Medicare and Medicaid and the sad cost of being old and sick in America. Are there solutions to these problems? Do you have hope that they'll be implemented for your benefit?
Morgan thinks to himself, "Who would ever believe the best thing that ever happened to me happened at age 90!" Do you think the same is possible in your own life?
The author, Mardo Williams, wrote his first novel at age 92. He sug­gests we live life every minute and always be in search of new experi­ences regardless of age. Discuss the title of the book and how it fits the story. How did the novel influence
or
Not Currently Available for Direct Purchase