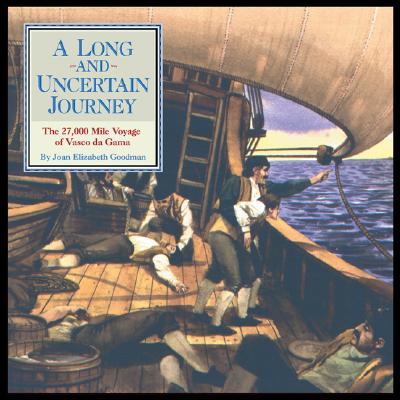 A Long and Uncertain Journey (Hardcover)
The 27,000 Mile Voyage of Vasco Da Gama
Mikaya Press, 9780965049375, 48pp.
Publication Date: April 1, 2001
* Individual store prices may vary.
Description
Five years after Columbus sailed off to find a sea route to the Orient, the Portuguese explorer Vasco da Gama went on the same quest. His epic, 27,000 mile journey around the bottom of Africa was filled with danger, treachery, sacrifice, cruelty and acts of extraordinary courage. By the time da Gama returned, half his ships were gone, and two thirds of his crew were dead, but he had found what Columbus had not.
Da Gama brought back tales of East African and Asian marketplaces overflowing with riches, of rulers who wore emeralds and rubies and pearls the size of grapes, of ships and cannons that were no match for those of the Portuguese. Portugal would soon send more ships and more cannons. The rest of Europe would follow. And the world would never be the same.
Joan Elizabeth Goodman's narrative captures both the drama of da Gama's voyage and its central place in world history. Tom McNeely's fluid watercolors give the reader a visceral sense of an unknown world unfolding before the explorer's eyes.
About the Author
Joan Elizabeth Goodman is the author of the first book in The Great Explorers series -- Beyond the Sea of Ice. She lives in New York City. Tom McNeely's work has appeared in the United States, Canada, Britain, Europe and Asia. He has won awards from the Society of Illustrators, The Art Directors Club of New York, The Art Directors Club of Toronto and Communication Arts Magazine. He has also received a Lifetime Achievement Award from The Canadian Association of Photographers and Illustrators in Communications. He lives and works in Toronto.
or
Not Currently Available for Direct Purchase