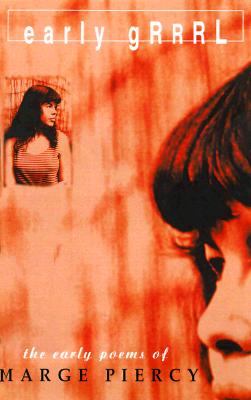 Early Grrrl
The Early Poems of Marge Piercy
Paperback

* Individual store prices may vary.
Description
The 'Grrrl' phenomenon is a contemporary expression of young women's humor and rage exploding in books and zines, concerts, films, and the internet. In homage to a new generation of tough young feminists, Marge Piercy presents a gathering of poems that reveal the poet as an early 'Grrrl.' Comprising over ninety poems selected from four books now out of print; poems previously published in literary magazines but never before collected and very early poems never published, this volume presents the bold and passionate political verse for which Piercy is well known alongside poems celebrating the sensual pleasures of gardening and cooking and sex; funny poems about New Year's Eve and warring boom boxes; vulnerable poems in which a young working class woman from the Midwest takes stock of herself and the limits of her world. For longtime fans and those new to Piercy's early work, this volume is an indispensable addition to the oeuvre of one of America's best-known and best-selling poets.
Marge Piercy is the author of fifteen novels and fifteen books of poetry, most recently The Art of Blessing the Day (Knopf, 1999) a selection of Piercy's Jewish-themed poems. What Are Big Girls Made Of?(Knopf, 1997) was nominated for the Pulitzer Prize and selected as one of their Most Notable Books of the Year by the American Library Association. In October, 1999, she will be a featured poet on the Bill Moyers' PBS-TV poetry specials Fooling with Words and The Sounds of Poetry and her newest novel, Three Women will be published by William Morrow.
TABLE OF CONTENTS
Preface, .xi
From THE TWELVE SPOKED WHEEL FLASHING
The meaningful exchange, 4
Five thousand miles, 5
The summer invasion, and the fall, 6
Nothing you can have, 9
Archipelago, 12
The first salad of March, 15
Exodus, 16
Ask me for anything else, 18
What is permitted, 20
A gift of light, 22
Short season, 27
Ghosts, 29
The new novel, 31
Women of letters, 32
From LIVING IN THE OPEN
The token woman, 37
The clearest joy, 39
Make me feel it, 40
Sage and rue, 42
River road, High Toss, 44
Paradise Hollow, 45
/DIV>
Leapfrog Press, 9780965457866, 156pp.
Publication Date: March 1, 1999
About the Author
Marge Piercy is the author of 16 novels, including the bestsellers Gone to Soldiers and The Longings of Women and the classic Woman On the Edge of Time, as well as the critically acclaimed memoir, Sleeping With Cats. The author of 16 books of poetry, she is the most anthologized poet of her generation. Her work has been translated into 18 languages.