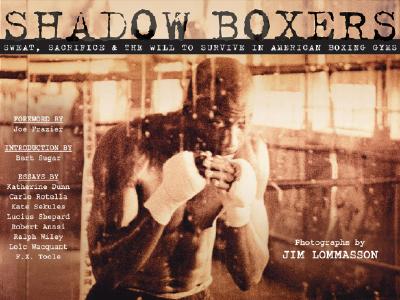 Shadow Boxers (Hardcover)
Sweat, Sacrifice & the Will to Survive in American Boxing Gyms
Stone Creek Publications, 9780965633826, 174pp.
Publication Date: May 15, 2005
* Individual store prices may vary.
Description
Boxing gyms are uncovered in all of their glorious grunge in these photographs and essays that reveal both the stark reality of success and the possibility of promise in the sport of boxing. This intimate look at the fighters, trainers, and hangers-on who inhabit these gyms brings to life the tough and surprisingly tender world of American boxing. Evocative images reveal the pain, sacrifice, and discipline of the "sweet science" as well as the triumphs, tragedies, and big dreams of the men and women who practice it. A dozen essays by veteran boxing writers such as Katherine Dunn, Carlo Rotella, Kate Sekules, F. X. Toole, Lucius Shepard, Robert Anasi, Loic Wacquant, Joe Rein, and Ralph Wiley explore the community and culture of boxing gyms, an endangered American institution that serves not only as the training ground for the next generation of great fighters, but as a sanctuary in tough neighborhoods, a lifeline for troubled kids, and a repository of a centuries-old tradition of pugilistic knowledge.

About the Author
John Gattuso is the editorial director of Stone Creek Publications. He lives in Milford, New Jersey. Joe Frazier is a former heavyweight champion and a legend in the boxing world. He is a member of the Boxing Hall of Fame. He lives in Philadelphia, Pennsylvania. Jim Lommasson has been chronicling the culture of American boxing gyms through photography for more than 10 years. He is a two-time winner of the New York Art Directors Award and exhibits his work throughout the United States. He lives in Portland, Oregon. Bert Sugar is the former editor of "The Ring," "Boxing Illustrated," and "Fight Game" and is the author of more than fifty books. He was named the "Greatest Boxing Writer of All Time" by the International Veteran Boxers Association.
Praise For Shadow Boxers: Sweat, Sacrifice & the Will to Survive in American Boxing Gyms…
"Gritty, grimy and gorgeous. . . Visceral and quietly dramatic . . . a lively cross-breed of art and journalism." The Oregonian


"A remarkable book...a journey into a subculture that most people do not know exists...[A] very special book for your personal library."  Alan Caruba, Bookviews.com, Pick of the Month"
 

"An inside look at boxing gyms and...a fresh perspective on a sport that many people have given up on." TalkingBoxing.com


"A marvelously-produced coffee-table book."  Thomas Hauser, boxing columnist, New York Sun


"Reveals not just the grit and toil of a disappearing world, but also an unexpected sense of community and...sanctuary."  Sports Illustrated


 "Lommasson captures the insides of America's urban boxing gyms...the way Ansel Adams tackled Yosemite."  Chicago Sports Review




"Both up to the minute and timeless, [Lommasson's] pictures are also affecting, intricate and sometimes just glorious."  Time
or
Not Currently Available for Direct Purchase