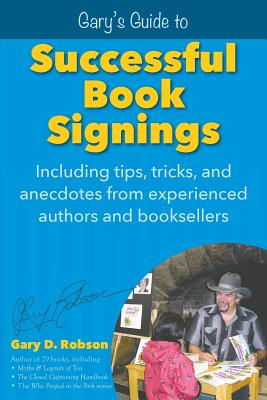 Gary's Guide to Successful Book Signings
Including tips, tricks & anecdotes from experienced authors and booksellers
Paperback

* Individual store prices may vary.
Description
At long last, your book is done. You've handed off the final manuscript to your editor, had your photo taken for the book jacket, and emptied your celebratory bottle of wine. Time to start on the next book? No. It's time to start planning the marketing and promotion for this one
Gary's Guide to Successful Book Signings will walk you through your launch party, book signings, talks, and conventions. It covers everything from the basics (how do you sign a book?) to the advanced (what should be in your exhibitor kit at a book show?) replete with tips, tricks, sample signatures, photos, and anecdotes. The book is fully indexed to make everything easy to find.
The book is an easy-to-read brain dump from Gary's extensive experience with book events. He has written over two dozen books and owned a bookstore for 15 years. There are also tips and stories from other authors across the genre spectrum, including Douglas Preston, James W. Hall, Keith McCafferty, Sneed Collard, Craig Lancaster, Chrysti the Wordsmith, Vonda McIntyre, and Gary Ferguson.
Proseyr Publishing, 9780965960984, 182pp.
Publication Date: May 17, 2016