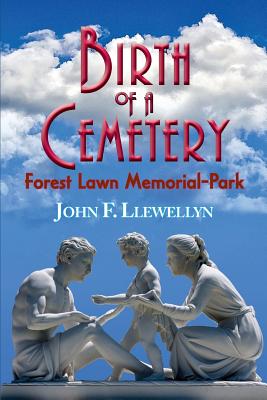 Birth of a Cemetery (Paperback)
Forest Lawn Memorial-Park
Tropico Press, 9780966580174, 476pp.
Publication Date: August 28, 2018
Other Editions of This Title:
Hardcover (8/28/2018)
* Individual store prices may vary.
Description
In Birth of a Cemetery, John F. Llewellyn reminds us that even supremely successful enterprises often emerge from chaotic beginnings. Llewellyn's book is essential reading for cemetery scholars and fans who want the inside story of how modern cemeteries develop, and the challenges they face. Llewellyn chronicles the mindboggling organizational drama from 1905 until the mid-1920s accompanying the founding of what was first called Forest Lawn Cemetery. While early American cemeteries were founded by faith-based organizations or public entities, by this time, cemeteries had become hybrid institutions, partly non-profit, partly profit. They exemplified the period's seemingly unlimited, and largely unregulated entrepreneurial spirit.Forest Lawn also mirrored the booming, racially divided city and suburbs of early 20th century Los Angeles. The cemetery's founders recognized the opportunity that growth represented, but had trouble settling on a management and sales program that would allow them to fully exploit it. Instead, they squabbled, backbit, and gossiped as they endlessly tried to find a system that would work, and time after time theirs produced more debt than profit.Some familiar faces in California history, Hubert Eaton, architect T. Paterson Ross, Motley Flint, the Glassell family, among others, populate the story. Many are civic leaders, while more than a few are scoundrels trying to figure out that most LA of pursuits, a quick success. Eventually, Hubert Eaton would take control, invent his version of the "memorial-park," and infuse the landscape with the values for which the institution became famous, middle class families, patriotism, and faith. Within a decade, as Llewellyn demonstrates in the final chapters, the newly christened Forest Lawn Memorial-Park would become the model for most cemeteries founded in the US.
About the Author
John Llewellyn is a third generation Californian and is uniquely positioned to tell the story of Forest Lawn-Memorial Park's early history. During the forty-five years with Forest Lawn--including twenty-three as its chief executive officer as well as being the third and last generation of the family to lead the organization. He has seen the organization evolve from domination by Hubert Eaton to an enduring institution. He is currently chairman of the board of directors. He has chaired industry trade associations as well as other non-profit organizations. Llewellyn has served as a director or trustee of more than two dozen organizations, including business, foundation, hospital, museum, and social service organizations as well as being a director of several for-profit companies.