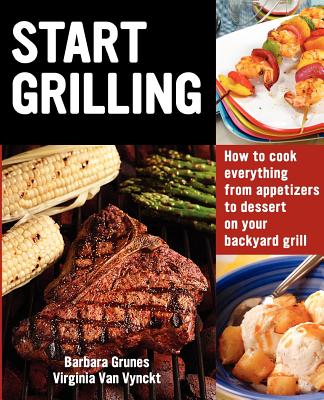 Start Grilling (Paperback)
How to Cook Everything from Appetizers to Dessert on Your Backyard Grill
Snowcap Press, 9780966970142, 238pp.
Publication Date: August 15, 2012
* Individual store prices may vary.
Description
Maybe you're new to grilling and are confused by the variety of grills, accessories, utensils, and fuels. Or you already have a grill but would like to get out of the hot-dog-and-burger rut. Or you're good at grilling, but need help in organizing your cookouts so you don't end up running the equivalent of a marathon between your refrigerator and the grill. "Start Grilling" tells you just about everything you need to know about choosing a grill and other equipment, selecting foods for grilling, and cooking them perfectly. You'll be able to put together the sort of casual, outdoor parties that everyone loves and turn out juicy steaks, perfectly cooked fish, "wood-fired" pizzas, roasted vegetables, and even grilled desserts with ease. From two veteran cookbook authors, "Start Grilling" includes nearly 100 tested recipes for such dishes as Grilled Antipasti, Jerk Strip Steaks, Lemongrass-Scented Flank Steak on Salad Greens, Carolina-Style Pulled Pork, Lamb Burgers, Whole Grilled Chicken with Apricot Sauce, Chicken Satay, Grilled Salmon with Tomato Basil Butter, Planked Whitefish, Honey-Brushed Prawns, Buffalo Cheese and Tomato Sauce Pizza, and Fruit Kebabs on Grilled Chocolate Pound Cake. This comprehensive handbook on how to grill everything also includes an outdoor party timeline and info on how long you can store foods, how much to buy for a party, how many briquets to use, and how to prevent and fix common grilling problems.