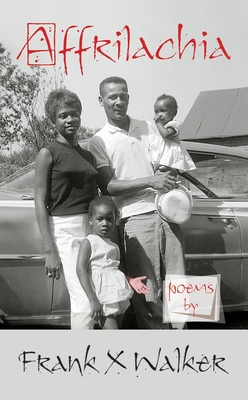 Affrilachia
Poems
Paperback

* Individual store prices may vary.
Description
A milestone book of poetry at the intersection of Appalachian and African American literature.
In this pathbreaking debut collection, poet Frank X Walker tells the story of growing up young, Black, artistic, and male in one of America's most misunderstood geographical regions. As a proud Kentucky native, Walker created the word "Affrilachia" to render visible the unique intersectional experience of African Americans living in the rural and Appalachian South.
Since its publication in 2000, Affrilachia has seen wide classroom use, and is recognized as one of the foundational works of the Affrilachian Poets, a community of writers offering new ways to think about diversity in the Appalachian region and beyond.
Published in 2000 by Old Cove Press
Praise For Affrilachia: Poems…
"Finally, a gathering of words that fiercely speaks to what it truly means to grow up African American in Appalachia. These are not stories of those of us transplanted conveniently into the territory for whatever reason. These poem-stories are from a native Affrilachian heart, more specifically, from the man who first created the word in order to define and not be rendered invisible. This personal poetic narrative is a historic, valuable offering, one man's unapologetic truth, granting us an eagle-eye view into what it means to be young, Black, artistic, and male in America as one century comes to an end and another begins. His poetry looks you in the eye, in plain-spoken unembellished, heartfelt language. Anyone who knows about the human heart and human nature can read it."—Nikky Finney, author of Head Off & Split, winner of the 2011 National Book Award for Poetry

"The poems in Affrilachia are funny and sad, tragic and hopeful, angry and determined, and as filled with generosity and love as poetry by any American writer in a generation. This book is powerful and beautiful. It is honest and true."—Gurney Norman, author of Ancient Creek: A Folktale and Allegiance
Ohio University Press Distributed Titles, 9780967542409, 112pp.
Publication Date: November 17, 2020
About the Author
Frank X Walker is a native of Danville, Kentucky, and professor of English at the University of Kentucky. A former Kentucky poet laureate, he is founding member of the Affrilachian Poets. Walker created the word Affrilachia to help make visible the Black experience in the Appalachian South. He is the author of many poetry volumes, including Affrilachia, Buffalo Dance: The Journey of York, Black Box: Poems, When Winter Come: The Ascension of York, and Isaac Murphy: I Dedicate This Ride.