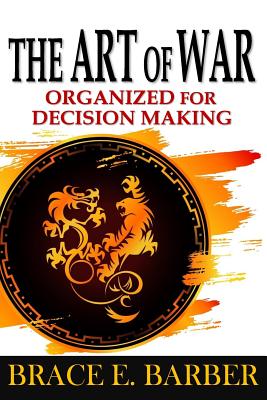 The Art of War
Organized for Decision Making
Paperback

* Individual store prices may vary.
Other Editions of This Title:
Paperback (3/30/2019)
Paperback (5/2/2015)
Paperback (5/31/2012)
Paperback (6/6/2019)
Paperback (6/20/2010)
Paperback (12/27/2013)
Paperback (3/27/2007)
Paperback (4/21/2010)
Paperback (9/29/2012)
Paperback (8/21/2011)
Paperback (9/12/2012)
Paperback (3/27/2007)
Paperback (4/23/2019)
Paperback (6/18/2018)
Paperback (3/3/2008)
Paperback (9/1/2014)
Paperback (7/6/2007)
Paperback (12/4/2015)
Paperback (5/9/2008)
Paperback (7/13/2019)
Description
A Must Have Resource for Every
Art of War
Enthusiast.
Strategic planning with The Art of War is now possible.
The effective application of Sun Tzu's
Art of War
was a guessing game prior to this organization of the book. Brace Barber discarded proverbs meaningless to modern society in order to focus the reader, eliminate distraction and allow for clear strategic thinking. He then reorganized the
Art of War
in line with accepted strategic categories necessary for systematically analyzing a problem and developing a highly stable course of action. This book is your key to an advanced strategic IQ.
See what others cannot see. Organize and Step through information in a way that allows you to see opportunities that others miss.

Handle massive amounts of information. Prioritize information and focus on the most important aspects of a problem.

Make the complex understandable. Prioritize, organize and justify in a way that allows everyone to see why a decision was made.

Be decisive. Confidence in a course of action comes when the scope of the problem is identified, and courses of action are designed to meet the critical needs in the best possible way. People can then decide and execute with confidence.

Effectively engage your imagination. Imagination or intuition within the framework of priorities and objectives is powerful. This process does not decide for you, it gives you the opportunity to be imaginative and innovative while still solving the problem.

Lead and communicate with a team. Organize and distribute the proper information at the proper times to the proper people. Then manage and lead the confidently-selected course of action.
Brace E Barber, 9780967829258, 130pp.
Publication Date: June 13, 2018