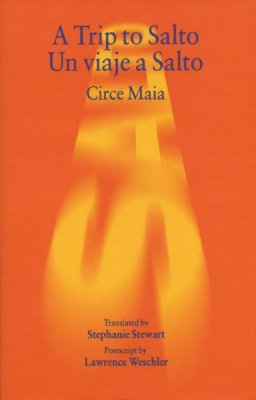 A Trip to Salto / Un viaje a Salto
Hardcover

* Individual store prices may vary.
Description
"One day you're going to ask me, 'Mama, do you remember that trip to Salto?' and I don't want such questions to go unanswered."

What happens on that trip to Salto opens this moving narrative by Uruguayan writer and poet Circe Maia. It begins with a mother and her young daughter desperately trying to catch an overnight train to Salto that they hope carries their husband and father, a physician and political prisoner who is traveling to the Salto prison accompanied by military guards after being interrogated in Montevideo. Their ensuing trip reveals the effects of a totalitarian regime on families and social relationships.

The tale of their journey is followed by a series of diary entries written by the mother between 1972 and 1974. The diary complements the opening account as each entry sensitively chronicles the family's struggle to cope with daily life under prolonged separation, fear, and uncertainty. The diarist questions how one's sense of community and love for country change when basic human rights can no longer be taken for granted.

Presented here in a bilingual edition, A Trip to Salto ultimately provides an intimate glimpse into Uruguayan history while it explores the deeper truths about an individual's capacity to resist, adapt, and hope.
Praise For A Trip to Salto / Un viaje a Salto…
"The freshness and the intensity of emotion in every paragraph are evident, and the book speaks with a personal eloquence through the passion of the mother, the innocent faith of the daughter, and the courage of their husband and father."
— ForeWord
"Compelling. . .  Short, well-paced, and intimate glimpse into Uruguayan history."
— Liliana Wendorff
"Against a turbulent background of military rule, poet Circe Maia narrates an individual story of loss and hope alongside the broader national context of 1970s Uruguay. . . . The author faithfully details the 'loss of meaning' when events are reported without trustworthy interpretation or comment. . . . Factual postscripts by the translator Stephanie Stewart. . . and academic authority Lawrence Weschler, add to the background of this powerful work."
— Canning House
Swan Isle Press, 9780967880877, 110pp.
Publication Date: September 15, 2004
or
Not Currently Available for Direct Purchase