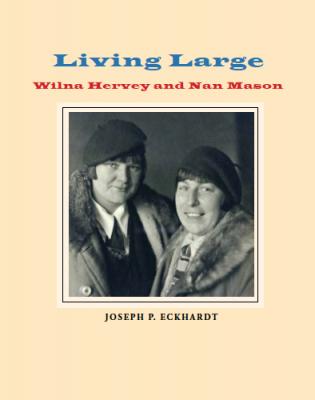 Living Large (Hardcover)
Wilna Hervey and Nan Mason
Woodstock Arts, 9780967926889
Publication Date: June 1, 2015
* Individual store prices may vary.
Description
Living Large: Wilna Hervey and Nan Mason is a rollicking dual biography of one America's earliest "out and proud" same-sex couples. Wilna Hervey a six-foot-three-inch, three-hundred-pound heiress won the role of "The Powerful Katrinka" in the Toonerville Trolley comedies of the early nineteen-twenties through her impressive size. Her evocation of Katrinka was so successful that it became a permanent part of her identity.
Wilna's movie work brought her something else that would long endure a partner for life. While filming on location in the Philadelphia suburbs, Wilna Hervey met Nan Mason, the surprisingly tall daughter of her Toonerville co-star, Dan Mason. Wilna and Nan became close friends and ultimately life partners.
Praise For Living Large: Wilna Hervey and Nan Mason…
Reviews for Living Large:
"[Eckhardt's] affection for his subjects is palpable, making the two women seem to the reader like long-lost friends. Wilna and Nan are worth getting to know, and anyone with a taste for biographies, but especially those with an interest in art, film history, or the LGBT community, will find this an enjoyable and heartwarming read." ~ Foreword Reviews

"Exceptionally well written and profusely illustrated throughout, Living Large: Wilna Hervey and Nan Mason is an inherently fascinating read and would make an important addition to academic library American Biography collections." ~ Midwest Book Review

"Eckhardt's impeccably researched, ebullient biography celebrates this high-octane union, with marvelous period photos." ~ Chronogram

"The fun-filled Living Large biography is replete with color photographs of the artists' works and a large number of black-and-white vintage images of their lives as travelers, artists, farmers and party-makers. A delight to read, this book crosses many boundaries." ~ Antiques and The Arts Weekly

Advance Praise for Living Large:

Jonathan Van Meter, contributing editor at Vogue and New York magazine and author of The Last Good Time: Skinny D'Amato, the Notorious 500 Club, and the Rise and Fall of Atlantic City, had this to say about the new title:

"If the story of Woodstock is synonymous with outsize characters and liberal iconoclasts (not to mention civic-minded party people), then Joseph Eckhardt may have found the Ur Woodstock story in the astonishing lives he so tenderly writes about in Living Large. Nearly one hundred years ago, Wilna Hervey and Nan Mason--"the Big Girls," as everyone called them--improbably found love and enduring success as artists (and clowns! and farmers!) in Bearsville. If, like me, you can't get enough of the secret history of this crazy town, you'll love this book."

Ray Murray, President, TLA Entertainment Group; founder and artistic director, Philadelphia QFest; and author of Images in the Dark: An Encyclopedia of Gay and Lesbian Film and Video, wrote:

"Living Large is a fascinating and revealing biography of two remarkable women--silent film actress and visual artist Wilna Hervey and her lifelong partner, fellow artist Nan Mason. Through deft and engrossing storytelling, Joseph Eckhardt explores the exceptional lives of these two independent women who were boldly defiant of societal restrictions. As a result of his meticulous research, the couple's professional and personal stories unfold in vivid detail. The colorful tale is accompanied by a treasure trove of family photos, stills from several of Hervey's films and images of the couple's striking art work. This is an uplifting, memorable and informative story of the lives, loves and careers of two incomparable women."

Robert S. Birchard, author of Cecil B. DeMille's Hollywood and editor of the AFI Catalog of Feature Films, added,

"At one time or another every biographer has heard those dreaded words, "But I've never heard of that person." Well, isn't that the point? Wilna Hervey and Nan Mason led lives that mattered. Their story is a fascinating one. They brought joy to artists, art collectors and film fans. Living Large is a consummate example of the biographer's craft. In these pages Joseph Eckhardt conveys vivid portraits of the two "big ladies" of Woodstock, and once you meet Nan and Wilna you'll never forget them. Bravo!"
or
Not Currently Available for Direct Purchase