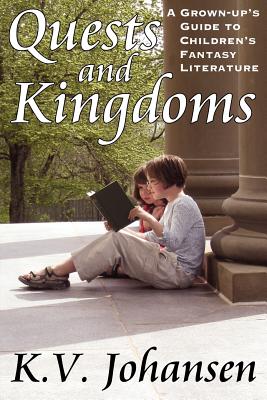 Quests and Kingdoms
A Grown-Up's Guide to Children's Fantasy Literature
Paperback

* Individual store prices may vary.
Description
Fantasy has become an increasingly popular genre of children's literature in recent years; Quests and Kingdoms provides a basis from which an adult unfamiliar with the genre of children's fantasy literature may explore it. Quests is an historical survey for the interested general reader, which will be of great practical value to library and education professionals as well. Though the aim is to give adults concerned with bringing children (or teens) and books together a familiarity with the children's fantasy genre and its history, for those who already know and love the classics of children's fantasy Quests will be an introduction to works and authors they may have missed. Taking a chronological approach, Quests begins with the fairy-tale collections of d'Aulnoy, Perrault, and the Grimms and works its way up to the novels of J.K. Rowling and Garth Nix, covering over three centuries of fantasy read by children. The lives of 95 authors are looked at and placed in historical context, while their works are introduced through both synopses and analysis. Quests also includes chapters on Tolkien, retellings of traditional stories, and King Arthur and Robin Hood. More than 500 works are discussed, and the thorough index makes the book a practical reference resource as well as a history and an introduction to the best in the genre. K.V. Johansen has Master's Degrees in Medieval Studies (Toronto) and English (McMaster). The author of a number of children's books, she held the 2001 Eileen Wallace Research Fellowship in Children's Literature from the Eileen Wallace Collection at the University of New Brunswick. She also received the 2004 Frances E. Russell Award for research in children's literature from the Canadian section of IBBY, the International Board on Books for Young People. 'Here is a magical thing, a reference book with a heart and soul. Brimming over with ideas, as well as facts and figures, the writing is elegant and the author's enthusiasm contagious. Here, too, a noble defence of fantasy and its literary value.' -O.R. Melling 'Johansen brings a scholar's erudition and a child's delight to the field of children's fantasy. Her thoughtful survey elevates fantasy from guilty pleasure to moral education, and reveals it to be not a recent marketing-driven fad, but an ancient and unbreakable strand of human creativity. If you know nothing about the genre, this book will turn you into an aficionado; if you think you've read everything, you'll find new gems here, and old ones glowing with a new light. For teachers, parents, anyone who wants to uncover the wonder of reading, Quests and Kingdoms is a pirate's treasure map.' -Tristanne J. Connolly, St. Jerome's University.
Sybertooth Inc, 9780968802441, 464pp.
Publication Date: June 28, 2005