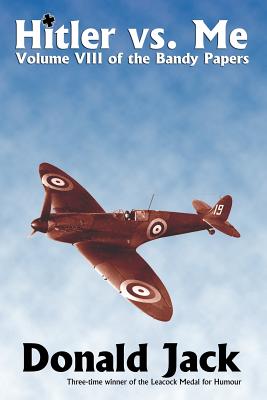 Hitler Versus Me (Volume VIII of the Bandy Papers)
Paperback

* Individual store prices may vary.
Description
Bandy is back It's 1940, and the intrepid air ace of WWI is eager to join the fight against Germany. Unfortunately, everyone seems to think Bandy is too old to be flying Spitfires, and should go quietly into retirement to polish his medals and knighthoods. Bandy, however, has other ideas, and uses his friends and/or enemies in high places to manoeuvre himself into the Battle of Britain. Between being mistaken for a Nazi spy, a communist, or a Chelsea pensioner, Bandy has as much trouble on the ground as he has in the air with the Luftwaffe, and when his son arrives on the scene, his troubles only get worse. This edition also includes Donald Jack's novelette "Where Did Rafe Madison Go?" Jack wrote the story just as the fate of the Avro Arrow jet fighter was still up in the air (the first test flight taking place in March '58, and the programme's termination coming only four months after the story was published). In "Where Did Rafe Madison Go?" Jack imagines a future delta-winged descendant of the Arrow, the CF-108, and takes us through the RCAF court martial that is trying to uncover the explanation for the plane's mysterious disappearance, an incident that even the pilot, Rafe Madison, doesn't understand.
Sybertooth Inc, 9780968802489, 332pp.
Publication Date: August 11, 2006