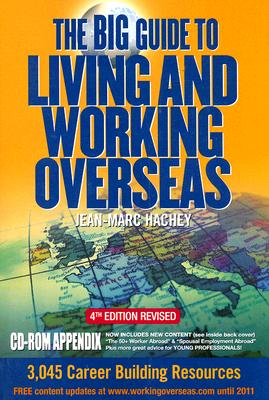 The Big Guide to Living and Working Overseas [With CDROM]
Paperback

* Individual store prices may vary.
Description
The BIG Guide to Living and Working Overseas is the authoritative guide on international careers for university students and young professionals. At a whopping 1,600 pages (including CD-ROM), The BIG Guide contains expert advice on gaining experience through study and internships, succeeding and adapting to overseas living, career planning, job searching, international resumes, international interviews, specific professions abroad and 3,045 carefully researched organizations offering professional jobs and international career resources. Available on-line and in print at www.WorkingOverseas.com, the Fourth Edition of The BIG Guide is your ticket to success and adventure MORE DETAILS ABOUT THE BIG GUIDE The BIG Guide has five parts that represent the five phases of successfully building an international career. If you are a young professional and follow these steps, you can be sure that you will exponentially increase your chances of finding the right program to build your international portfolio and be ready to land a professional international job. PART ONE delves into the experience of LIVING OVERSEAS, uncovering the unique skills international employers look for in an employee. After reading these chapters, you will also understand why international living is addictive PART TWO explains HOW TO GAIN EXPERIENCE and profiles programs to help you volunteer, study, travel, and most importantly, find a professional internship abroad. These programs are absolutely essential to helping you develop your International IQ - and you'll have a lot of fun at the same time PART THREE tells you everything about THE INTERNATIONAL JOB SEARCH. Here, you'll learn how international r?sum's and interviews are unique and how to sell your international skills. These insightful chapters have made us famous in Canada PART FOUR describes the ins and outs of various PROFESSIONS internationally, including engineering, health, development and others. There is even a.
ISSI, 9780969600138, 1084pp.
Publication Date: October 4, 2004
or
Not Currently Available for Direct Purchase