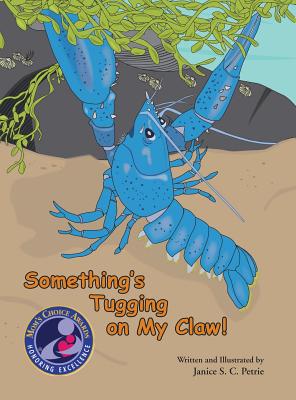 Something's Tugging on My Claw! (Hardcover)
Seatales Publishing Company, 9780970551030, 32pp.
Publication Date: March 1, 2016
* Individual store prices may vary.
Description
"Something's Tugging on My Claw!" takes readers on a young, blue lobster's adventure to discover the culprit who was tugging on his claw. Once he solves the mystery, the blue lobster is delighted to find that a claw dropped on purpose to escape danger isn't necessarily lost forever.

This is Seatales Publishing Company's third book in its sea animal series. "Something's Tugging on My Claw!" is an engaging, rhythmic and rhyming sea animal adventure, with brightly colored illustrations and expressive characters to bring the story to life. Although this story is fictitious, all the characters tell an authentic tale of what really happens at the edge of the sea. The repetitive text and rich vocabulary make "Something's Tugging on My Claw!" a fun read-aloud for families, as well as an entertaining choice for teachers who are studying marine life in their classrooms. Although this book's target audience is preschool through fourth grade, most adults are surprised at how much they learn from reading "Something's Tugging on My Claw!," too.
About the Author
Janice S. C. Petrie has been enchanted by the sea for as long as she can remember. She became a certified SCUBA diver while in high school, and spent many years exploring coastal waters. Her fascination with marine invertebrates grew while working for the New England Aquarium as an Outreach Specialist. Since then, she's spent years caring for these fascinating sea animals, and teaching children and adults about the habitats and sea life commonly found near the shore. The material covered in her children's stories are topics commonly taught by Petrie in her popular sea animal programs. Petrie has experience in all facets of the sea, having worked as an assistant plant manager of a large, Gloucester/Boston seafood company.

As a certified teacher, grades K-8, and a Reading Specialist, all ages, Petrie has earned her Bachelor of Science and Master of Education degrees in the field of education, with a concentration in reading. Petrie also holds a Bachelor of Arts degree in Art, with a graphic design concentration. Because of her background in developing integrated curriculum units for elementary and middle schools, Petrie has available on her website, free, downloadable curriculum packets for each of her children's books.
Praise For Something's Tugging on My Claw!…
"Something's Tugging on My Claw!" is a Mom's Choice Award Recipient for Children's Picture Books.

"A captivating work that offers vivid lessons about lobsters.
Petrie, a former outreach specialist for the New England Aquarium, definitely knows her sea life. Both educational and sensational, this book should delight readers young and old, especially serving those who have an interest in marine biology. The little fish swimmers are a wonderful addendum to this children's tale, answering many of the questions that could arise from young readers and pushing them to conduct their own research into the lobster's ocean life. Petrie's colorful illustrations are scientific enough to be accurate but not so complex that they become dull. Though the work is intended for younger readers, the prose is lively—many an adult wouldn't mind reading this at bedtime to marine-leaning children again and again."—Kirkus Reviews

"Something's Tugging on My Claw!" is a colorful, authentic, and accurately illustrated story about a young blue lobster's adventure...I's appealing to young readers from ages 3-10, and contains many valuable lessons of lobster lore.—Midwest Book Review - Children's Bookwatch

When I received this book I immediately loved the graphics and rich educational information. I passed this book onto my husband a certified teacher, who is a youth services librarian, and does a 2 to 5 year old story time. He said ,"Good book! I found it was well done but recommend for a story time with grades K-3rd." I liked that you could almost read the book from two different points of view. One informational and the other entertaining.
— Sarah Winkowski Foster, librarian, September 17, 2016

Kid's love this book! We read it to our visitors all summer!
—Kate, Schoodic Educational Adventure Director, Acadia National Park, Bar Harbor, ME; October 13, 2016

I love this book, and so do my fourth graders! We learned so much about the lobster and we are from Maine! Keep writing. Your third book is as fantastic as your first two!
—Debra Timberlake, Fourth grade teacher, ME, May 20, 2016

… This is a great book and I absolutely love the attention to detail and facts at the end! Makes it very easy for a child to understand some marine life facts. I completely recommend this book to anyone wanting to educate their children in enjoyable ways. I am actually looking forward to checking out her other books!
—Clark, Goodreads, March 11, 2016

This is an adorable children's book. I love that the story itself is cute and fun to read for little kids, and there are facts throughout for older kids. This has something for everyone!
—Jessica, Goodreads, March 10, 2016

Love the vibrant illustrations! This book is both educational but also has a great literary flow!
—Samantha Romage, Illustrator at Poisonfish Games, MA, October 12, 2016

Wonderful book! Beautifully illustrated and enchanting, rhyming text.
—Sally MacLaughlin, retired elementary teacher, FL, October 12, 2016
or
Not Currently Available for Direct Purchase