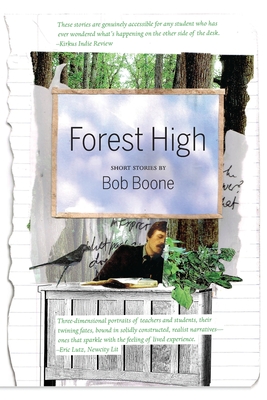 Forest High: Short Stories (Paperback)
Short Stories
Amika Press, 9780970841667, 102pp.
Publication Date: August 10, 2011
About the Author
Bob Boone started teaching in 1964. He has taught in Staten Island, Germany, Highland Park, and Chicago. In 1991, he founded Young Chicago Authors to provide opportunities for young writers from the city. He has written several textbooks, a teaching memoir, and a sports biography. Along with coauthoring "Write Through Chicago, " he and Mark Henry Larson have written two other creative writing books, "Moe's Cafe" and "Joan's Junk Shop. Forest High" is his first work of fiction, and "Back to Forest High" is his second. He lives in Glencoe, Illinois, with his wife Sue. He has three children and five grandchildren.

"KIRKUS REVIEWS"

www.kirkusreviews.com

...The most moving stories focus on aging instructors and their legacies, after having influenced the lives of coworkers and pupils, for better or worse. Funny in the Summer centers on the relationship between Armand, a veteran educator approaching retirement, and Julie, a younger instructor who presses him to share humorous memories from his long career... However, Boone does not glorify all teachers as laudable role models or paragons of organization. Special Project presents the power struggle between two characters with equally lackluster records: Jerome, a chronically absent student with few completed assignments, and Arthur, an English teacher with poor judgment who forgets that Jerome is enrolled in his class. When grades are due, Arthur attempts to negotiate a mutually beneficial agreement and alter his grade book by hand. Boone's economical use of dialogue serves a dual purpose, as characters reveal questionable attitudes in a small amount of space or, more often, withhold uncomfortable truths from themselves and others. These layered, often humorous classroom insights are buoyed by the author's lean, clear writing style.

The author will find an eager audience among readers who work in the profession, but these stories are genuinely accessible for any student who has ever wondered what's happening on the other side of the desk.
Advertisement