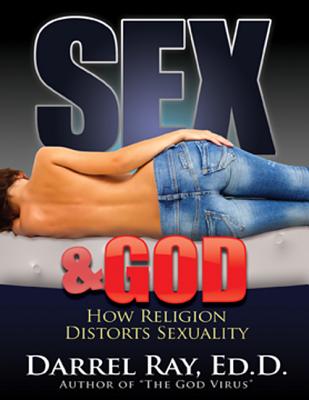 Sex & God (Paperback)
How Religion Distorts Sexuality
Ipc Press, 9780970950543, 300pp.
Publication Date: January 10, 2012
* Individual store prices may vary.
Description
Why are all the major religions consumed with sex? What makes sex so important, whether Buddhism or Islam, Christianity or Mormonism? What is the impact of religion on human sexuality? This book explores this and more. It ventures into territory that has never been examined. You will be surprised at how much religion has influenced your sexuality, who you marry, the pleasure you get or don't get from sex, and what you can do about it.
About the Author
Dr. Darrel Ray is a psychologist and student of religion and sexuality. His third book, The God Virus: How Religion Infects Our Lives and Culture was a best seller and changed the way many people look at religion.
Praise For Sex & God: How Religion Distorts Sexuality…
"Read this book. Whether you are a believer, doubter, or atheist, religion influences your sexuality. Darrel Ray removes our blinders. Never again will you view religion as benign in its effects. With patience, verve, and overwhelming evidence he makes the case that religion is an STD, a sexually tarnishing disease. Religion undermines our capacities for romance, love, sex, intimacy, and parenting. Sex and God, not the Gideon Bible, needs to be in every hotel room."
--J. Anderson Thomson, Jr., M.D., University of Virginia, psychiatrist, author, Why We Believe In God(s): A Concise Guide to the Science of Faith
"The gods seem to have a perverse obsession with the sex lives of mere mortals. In this comprehensive, sharply written survey, Darrel Ray takes us on a tour of the millennia-long religious crusades against guilt-free human sexual expression. I enjoyed this book. It's a  fascinating, informative read."

--Christopher Ryan, Ph.D., co-author of Sex at Dawn: The Prehistoric Origins of Modern Sexuality
"When it comes to hurtful hypocrisy, it appears that religion and sex may well take the cake. How appropriate therefore - and how courageous - that Darrel Ray has written Sex and God, a powerful debunking of one of the deepest yet rarely examined mythic connections of all time. Give Sex and God a try ... and then drop one of them (I'll leave it up to you to decide which!)."

--David P. Barash, professor of psychology, University of Washington, and author, most recently, of Homo Mysterious: evolutionary mysteries of human nature
"Dr. Ray poignantly applies both the facts and common sense to two of society's greatest untouchables: sex and religion.  Approach this book with an open mind and you will find Sex and God puts sexual power back where it belongs: with you!"

--Laci Green, host of Sex+, youtube.com/lacigreen