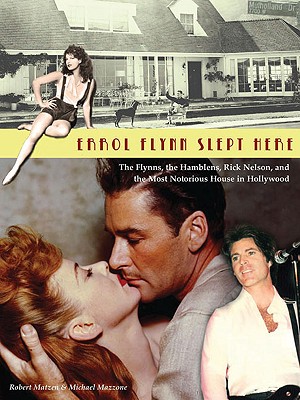 Errol Flynn Slept Here (Hardcover)
The Flynns, the Hamblens, Ricky Nelson, and the Most Notorious House in Hollywood
Good Knight Books, 9780971168572, 184pp.
Publication Date: February 4, 2009
* Individual store prices may vary.
Description
Documenting the most notorious house in Hollywood, this history spans the life and death of Mulholland Farm, the elegant and infamous mountaintop showplace built by film star Errol Flynn at the height of his fame. While appearing to be stylish and refined, Flynn installed secret passageways, two-way mirrors, and other voyeuristic tools into the house to spy on the famous women he entertained, as well as couples making love. He lived in Mulholland Farm during Hollywood's Golden Era, when he was the most famous playboy movie star alive, remaining in the home through the rape trial that almost ruined him and the snatching of John Barrymore's body. The intricate story of the farm also spans five continents to include Franklin Delano Roosevelt, Ronald Reagan, Fidel Castro, Humphrey Bogart, Shirley Temple, Clark Gable, Billy Graham, Johnny Cash, Roy Rogers, the Rolling Stones, and the other two owners of the property, Christian singer/songwriter Stuart Hamblen and rock 'n' roll legend Rick Nelson.
About the Author
Robert Matzen is the author of bestselling books about Hollywood history, including Mission: Jimmy Stewart and the Fight for Europe and Fireball: Carole Lombard and the Mystery of Flight 3. He is a former NASA contractor, where he worked as a writer and filmmaker. He lives in Pittsburgh, Pennsylvania. Michael Mazzone has been a researcher on Golden Age Hollywood for more than 30 years, specializing in John Barrymore, Lillian Gish, and Errol Flynn. He lives in South Point, Ohio.
Praise For Errol Flynn Slept Here: The Flynns, the Hamblens, Ricky Nelson, and the Most Notorious House in Hollywood…
Just when you think every bit of Hollywood history and lore has been explored, along comes a book that's inventive, surprising and impossible to put down . . . This handsomely produced volume is the kind of book I intended to browse but wound up reading from cover to cover."  Leonard Maltin, author, Leonard Maltin's Movie Guide
Errol Flynn Slept Here is a voyage into a dark past . . . a fascinating, and thoroughly unexpected slice of cultural history."  Scott Eyman, author, Lion of Hollywood: The Life of Louis B. Mayer
A brilliant account of Errol Flynn's house in 11 acres of ground on Mulholland Drive which boasted two-way mirrors, secret staircases and sliding panels."  Turner Classic Movies UK
or
Not Currently Available for Direct Purchase