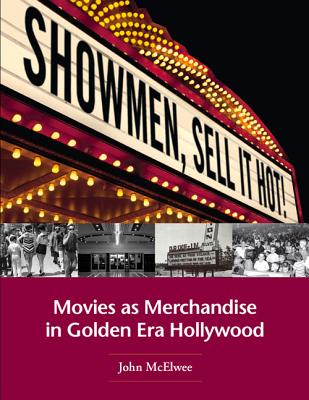 Showmen, Sell It Hot! (Hardcover)
Movies as Merchandise in Golden Era Hollywood
GoodKnight Books, 9780971168596, 286pp.
Publication Date: July 15, 2013
* Individual store prices may vary.
Description
A noted Hollywood historian takes a first-ever marketing look at the selling of classic motion pictures generated by Hollywood's fabled movie factories in this lush coffee-table retrospective. Movie buffs will enjoy seeing the effects of the Depression, censorship, world war, the Cold War, television, and the counter-culture movement on the changing tastes of moviegoers, and the way showmen responded with creative and sometimes zany ad campaigns. Chapters include the sexy and salacious pre-Code pictures; the launch of the new dance team of Fred Astaire and Ginger Rogers in Flying Down to Rio; MGM's gamble on the Marx Brothers with A Night at the Opera; lavish campaigns for The Wizard of Oz in original release and reissue; creation of a new star, John Wayne, in John Ford's Stagecoach; Orson Welles' failed Citizen Kane campaign; Billy Wilder's unusual and dark Hollywood statement picture, Sunset Boulevard; the selling of Rebel Without a Cause, Giant, and East of Eden following the death of James Dean; Alfred Hitchcock's personal gamble with Psycho; and much more!
About the Author
John McElwee is a lifelong film enthusiast who began reviewing new movies in print at age 14. His articles have appeared in Films in Review, Monsters from the Vault, and Noir City Annual. He has taught and lectured on film and has programmed extensively for colleges and universities.
Praise For Showmen, Sell It Hot!: Movies as Merchandise in Golden Era Hollywood…
"John McElwee digs deep and explodes box-office myths about beloved and obscure films, as well as serving up the fascinating, heretofore untold stories of how classics were sold at local bijous and their often torturous afterlives. Catnip for movie buffs, all told in an irresistible, wryly amusing voice."  —Lou Lumenick, film critic, New York Post


"The book is wonderful in its variety of films chosen and situations connected with ballyhoo that strongly influenced public perception and market response. John has ably demonstrated, as no one else has to date, the crucial nature of the motion picture exhibitor who, by way of creative marketing, or not, helps determine the fate of producers (as in the case of Lewton) and even the memory of deceased stars in his fascinating chronicle of both Jean Harlow and James Dean. McElwee has shown that the 'sizzle' was, in fact, the 'steak' of moviegoing during the heyday of motion pictures and gives substance to the term 'popular' in the study of popular film. Showmen, Sell It Hot! proves conclusively that without the imaginative and resourceful exhibitor, even the best-laid studio advertising campaigns were not sufficient to sell a film in a very competitive market."  —James V. D'Arc, curator of motion picture archives, Brigham Young University
"John McElwee's Greenbriar Picture Shows is unique among the countless film blogs on the Internet in that it focuses on the exhibition side of the business and the role showmanship played in the filling of seats. Now John has produced a book as unique and valuable as the site from which it is derived. In
Showmen, Sell It Hot!
he tells the local exhibitor's story as never before, incorporating solid research, eye-popping graphics, and the distinctive voice his readers have come to expect. It fills a long-vacant niche in film scholarship, but it's also loads of fun. I can't remember the last time I've enjoyed a book so much."  —James Curtis, author,
Spencer Tracy: A Biography
"Having been privileged to see an early proof of John's book, I can happily attest that it's a humdinger, and everyone should go out and buy it. It truly is more than a collection of some of the best from Greenbriar, it weaves a interesting tale from the Exhibitors point of view covering the important decades of the movie business. Fabulous photos, an entertaining read, and a terrific education. All of your bookshelves require it."  —Richard M. Roberts, author, Past Humor, Present Laughter: Musings on the Comedy Film Industry 1910–1945, Volume One: Hal Roach


"You'll want to own a copy of the handsome new hardcover, Showmen, Sell It Hot! Every chapter of this lavishly illustrated volume is packed with information that was new to me and fascinating to learn. I can't say enough about this entertaining book or the ongoing research John McElwee offers at his site."  —Leonard Maltin
or
Not Currently Available for Direct Purchase