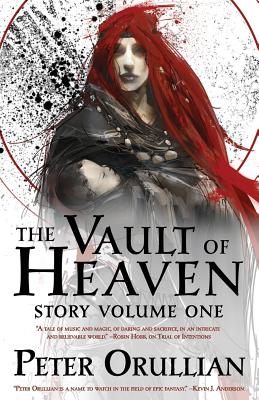 The Vault of Heaven
Story Volume One
Paperback

* Individual store prices may vary.
Description
A mother considers the unthinkable to stop a war. A husband may lose everything to watch over a world. A scrivener learns the terrible risk in the words she's translating. The power of many sacrificing as one. These and more are the stories collected in this volume. Stories of people. Stories of war and sacrifice and friendship. They help weave the rich fabric of Orullian's epic fantasy series, The Vault of Heaven, deepening the resonance of the world he's created.
Descant Publishing, 9780971290914, 252pp.
Publication Date: February 3, 2015
About the Author
Peter Orullian has worked at Xbox for over a decade, which is good, because he's a gamer. He's toured internationally with various bands and been a featured vocalist at major rock and metal festivals, which is good, because he's a musician. He's also learned when to hold his tongue, which is good, because he's a contrarian. Peter has published several short stories, which he thinks are good. The Unremembered and Trial of Intentions are his first novels, which he hopes you will think are good. He lives in Seattle, where it rains all the damn time. He has nothing to say about that. Visit Peter at: www.orullian.com