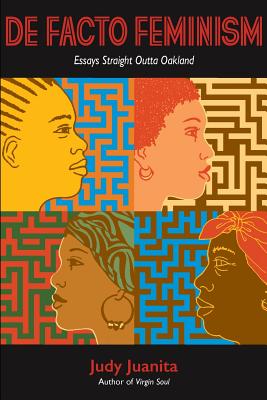 DeFacto Feminism (Paperback)
Essays Straight Outta Oakland
Equidistance Press, 9780971635210, 232pp.
Publication Date: October 6, 2016
* Individual store prices may vary.
Description
Judy Juanita views activism and feminism as it plays out in her political, artistic and spiritual life. A distinguished semifinalist for OSU's 2016 Non/Fiction Collection Prize, De Facto... blends essays, poems, graphics by the late Rini Templeton and literary criticism. An act of self-definition with the feel of memoir, these essays follow a long line of thinkers, including Anna Julia Cooper, Ida B. Wells-Barnett, Audre Lorde, Alice Walker, Michelle Wallace, Angela Davis, bell hooks, Paula Giddings, Michelle Alexander, Roxane Gay, and Chimamanda Ngozi Adiche. In her semi-autobiographical novel, Virgin Soul, the central character joins the Black Panther Party and calls herself a female foot soldier in the black revolution of the sixties. The feminist foot soldier in De Facto... processes major shifts in American society through her own development. The essays are set chronologically, beginning with a picture of the author's Tuskegee Airman father, and an account of a not altogether idyllic childhood in Oakland. The concept of freedom here is a freedom from complication, from an awaiting black consciousness.
A narrative emerges: Growing up in Oakland in the fifties and sixties. Comparing her burgeoning sexuality to young white females in droves in 1964 having orgiastic responses to the Beatles. Formulating an erstwhile concept of womanhood based on Black Nationalism. Deconstructing the infamous N-word controversy. Looking back acerbically at her romance with The Gun and the black power movement's similar fascination. Paying homage to poet Carolyn M. Rodgers. Celebrating 21st century feminism in unexpected places. Examining race and micro-aggression in liberal Berkeley. Living with a ghost/mentor for a year.
The book's format moves from essay to poem to epistle in the final essay, "Acknowledge Me," a true ghost story in which a dead playwright, once her teacher, pushes her to succeed in spite of her misgivings.
"Whatever Happened to Carolyn M. Rodgers?" pays homage to a poet who became a phantom of the Black Arts Movement (BAM). Rodgers utilized the unbridled militancy of the era, mixing slang, nostalgia, curse words, sociology, raw revelation of sexual intimacy to address the abyss between black men and women; she became a near pariah after reviving her Christian faith.
"All The Women in My Family Read Terry McMillan" asks what to do about black literature, at the release of her novel which doesn't fit with the books her friends and family are reading.
"Putting the Funny in the Novel" was the author's response to her agent saying her novel about the Panthers wasn't funny enough.
"Report from the Front" indicates how America's most liberal city, Berkeley, still channels racism.
The title essay "De Facto Feminism" tallies the myriad ways feminism pops up in a country that counts black women out, from fighting/finding contingency, building bridges, breaking bread, and doing bizness the old fashioned way.
"Cleaning Other People's Houses" considers the value of physical labor as the author works as a domestic for a living; she leaves that job remembering that Zora Neale Hurston worked as a domestic in the last impoverished decade of her life.
In the wake of Trayvon Martin, "The Gun as Ultimate Performance Poem" looks at the gun's dark power and role in the African American community from the Panthers to the present.
"Five Comrades in The Black Panther Party, 1967-1970" recalls the author's youthful joining the Black Panthers.
"The N-Word," in an age of trigger warnings and multiple N-Word explosions, blasts its premature burial...with qualifications, and calling it on white cops.