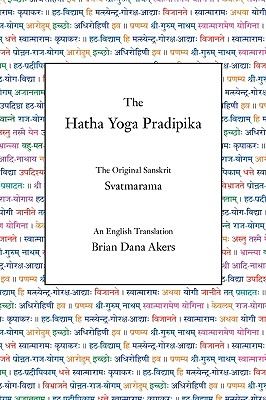 The Hatha Yoga Pradipika (Paperback)
Yogavidya.com, 9780971646612, 128pp.
Publication Date: September 1, 2002
* Individual store prices may vary.
Description
This affordable, definitive edition of the Hatha Yoga Pradipika contains the original Sanskrit, a new English translation, and full-page photographs of all the asanas. The first edition of this classic to meet high academic, literary, and production standards, it's for people who practice Yoga or have an interest in health and fitness, philosophy, religion, spirituality, mysticism, or meditation.

"Beautifully printed and translated. Wonderful pictures, too."
--Dominik Wujastyk, Indology

"There is a certain magic at work here--as if Svatmarama has projected himself through time, expressing himself through Akers."
--Michael Perkins, Woodstock Times

"This faithful reproduction is an impressive and highly recommended reference for students and devoted practitioners of Hatha Yoga."
--Midwest Book Review

"Accurate and accompanied by clear pictures, this translation of an informative Sanskrit text is a very useful addition to the growing literature on Yoga in Western languages."
--Ashok Aklujkar, University of British Columbia

"Written over five-hundred years ago, the text is considered by many a seminal work on the practice of Hatha Yoga."
--Chris Meehan, Kalamazoo Gazette