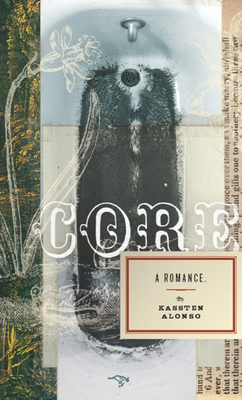 Core (Paperback)
A Romance
Hawthorne Books, 9780971691575, 208pp.
Publication Date: May 1, 2005
* Individual store prices may vary.
Description
This intense and compact novel crackles with obsession, betrayal and madness. As the narrator becomes fixated on his best friend's girlfriend, his precarious hold on sanity rapidly deteriorates into delusion and violence. Alonso skillfully uses language to imitate memory and psychosis, and deliberate misuse of standard punctuation blurs the distinction between the narrator's internal and external worlds. This story can be read as the classic myth of Hades and Persephone (Core) rewritten for a twenty-first-century audience as well as a dark, foreboding tale of unrequited love and loneliness. A sense of alienation and Faulknerian grotesquerie permeates this landscape, where desire is borne in the bloom of a daffodil and sanity lies toppled like an applecart in the mud.
About the Author
KASSTEN ALONSO was born in Seattle, Washington. He currently lives in Portland, Oregon, with his wife and daughter. Core is his first published novel.
Praise For Core: A Romance…
JUMP THROUGH THIS GOTHIC STAINED-GLASS WINDOW and you are in for some serious investigation of darkness and all of its deadly sins. But take heart, brave traveler, the adventure will prove thrilling. For you are in the beautiful hands of Kassten Alonso. TOM SPANBAUER, author of The Man Who Fell in Love With the Moon and In the City of Shy Hunters

KASSTEN ALONSO TAKES THE READER on a wild ride inside the mind of a profoundly disturbed man as he descends into madness and violence. A beautifully written book. Impossible to put down.JAMES FREY, author of A Million Little Pieces

KASSTEN ALONSO'S AMAZING Core will startle you. A fierce story that actually taught me to read it as I went deeper and deeperit's as if this book is written in a rich, beautiful language I'd once known and somehow forgotten. I'm happy and terrified to have it back.PETER ROCK, author of The Bewildered

A NOVEL OF CONSIDERABLE DARING and precision. In finely worked language, Kassten Alonso explores the border between Hell and the everyday, finding it closer than we might have hoped. A dense, surprising, beautifully worked novel. KEVIN CANTY, author of Winslow in Love

SENTENCES SPUTTER AND FRACTURE. Noting is linear. But the story progresses, through repetitions of words and phrases, and occansional clear windows in the kaleidoscope of narration, constructing a crazy quilt of a story of love gone terribly wrong, and bad things that happen because of it. THE OREGONIAN

A GORGEOUS, FRACTURED NOVEL about a homicidal sculptor of stones and ceramics.CREATIVE LOAFING ATLANTA

A TRUE CRAFTSMAN, Alonso controls his form &endash; portraying the internal madness of the main character without sacrificing clarity of style or plot orientation. Further, what in lesser hands could have easily lapsed into tedious stream of consciousness becomes a sublime landscape of mental anguish and crazed logic. THE PORTLAND ALLIANCE

KASSTEN ALONSO'S DEBUT NOVEL IS STARK AND AFFECTING. , Juxtaposing the sweet and the macabre, Alonso heightens the reader's perceptions of each. Alonso's prose is exquisite and artistic. He's able to reflect the narrator's instability amazingly well through a sort of stream of consciousness prose, while never losing the descriptiveness and lyrical quality that captures and holds the reader's attention from the first to the last page. Alonso's modern gothic tale-- think windswept American corn fields rather than dark English moors-- is absolutely arresting. Core: A Romance is the demonstration of a writer with great skill and precision. Highly recommended. THE ABSINTHE LITERARY REVIEW
or
Not Currently Available for Direct Purchase