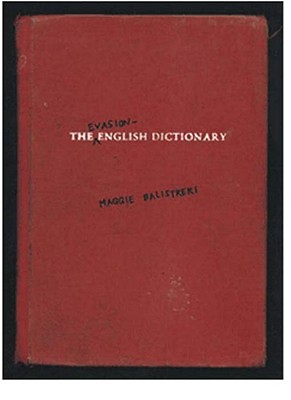 The Evasion-English Dictionary (Paperback)
Melville House, 9780971865976, 96pp.
Publication Date: October 26, 2003
* Individual store prices may vary.
or
Not Currently Available for Direct Purchase
Description
What if you fired your shrink and hired a proofreader?

More than just a dictionary of euphemisms by a hip young linguist, The Evasion-English Dictionary is a merciless translation of the banalities of contemporary speech. It's also scathingly funny.

For example, Balistreri asks what if you substituted the word "you" for the phrase "the relationship" in the sentence, "There seem to be a lot of problems with the relationship." Or what if you substituted the word "because" for the word "but" in the sentence "They drive me crazy but my parents are very involved in my life."

Entertaining as it is, however, the E.E.D. is also a thought-provoking and insightful look into the twists and turns of modern English usage—a smart and useful, albeit hysterical, earwitness account of verbal mishaps and manipulations that's destined to become a classic with language lovers and a useful reference tool on the desk of writers everywhere.
About the Author
MAGGIE BALISTRERI edited "Popaganda: The Art and Subversion of Ron English" (Soft Skull Press, 2001), and runs the language and poetry webzine CafeMo.com. She has written about the language for innumerable publications including Vocabula.com, "La PetiteZine," the-screamonline.com, and "Slope." Born in Brooklyn, Balistreri is a rock climber, a dirt-bike racer, and a biography embellisher.
Praise For The Evasion-English Dictionary…
Maggie Balistreri takes dead aim at the Like, Whatever faction of English speakers and splatters them with her paint ball. Clear-minded grammar wins out in the end. Bravo.
—Garrison Keillor

The brilliant writing, lucid thinking, and authentic passion in these pages make The Evasion-English Dictionary one of the most readable and incisive exposures of linguistic camouflage I have ever encountered.
—Richard Lederer, author of Anguished English

A stimulating collection that will sharpen yours ears and stretch your mind.
—Thomas Szasz, author of The Untamed Tongue: A Dissenting Dictionary
Advertisement