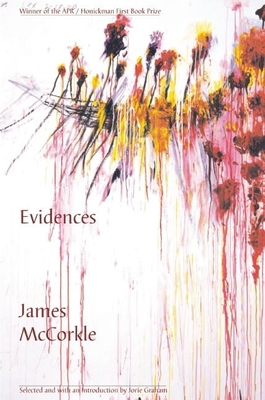 Evidences
Paperback

* Individual store prices may vary.
Description
Chosen and with an Introduction by Jorie Graham, Evidences is the winner of the sixth annual American Poetry Review/Honickman First Book Prize. In poems that are by turns lyrical, disjunctive, autobiographical, and political, Evidences sifts through residues of landscape and history. The physicality of the language and the invocation of the world of places and things form a meditative process, surveying the conditions of perception and memory, history and grace.
from The Sand Runs Through
Coming out of the forest, at the edge of the clearing,
Then at your door bearing a suitcase of vials,
You opened your window to owls
Flying from pines, the sea a maze of color,
Remembering, then, walking in the desert
You whispered the stars too
Must be homeless, the desert the place of
His absence, that was the gift
Or that which was taken away,
You whispered, in the sand the marks of bodies
Stretched out among twisted wood,
As examples, lost, as warnings, figures of evidence.

One wants to live in a world so very brimful of what one loves and yet so equally full of its destruction: I do not believe it is possible to miss how brave this book is, how daring, and given over to beauty--both in its surface and in its love of what is on our surfaces.--Jorie Graham
An independent scholar and writer, James McCorkle lives in Geneva, New York, with his wife and two young daughters. He received the M.F.A. and Ph.D. from the University of Iowa and has had fellowships from the Ingram Merrill Foundation and the NEA. He is the editor of Conversant Essays: Contemporary Poets on Poetry and the author off The Still Performance, a study of postmodern poetry.
Copper Canyon Press, 9780971898141, 110pp.
Publication Date: September 1, 2003