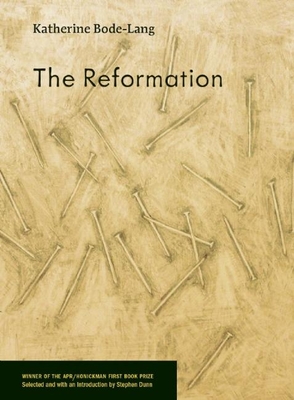 The Reformation (American Poetry Review/Honickman First Book Prize)
Paperback

* Individual store prices may vary.
Description
Katherine Bode-Lang's fierce and lyrical poems undertake the reformation of family mythology, place, and loves that each life requires to become its own. As Stephen Dunn notes in his introduction, One of the classic tricks of actors is when you want to get the attention of your audience, you lower, not raise, your voice. Katherine Bode-Lang's work is not a trick--her lowered voice kept attracting me.
Mending
I spent that summer tucked behind the library's stacks
with broken books, repairing bends and tatters,
erasing pencil marks, tipping in the missing pages.
Old books, weak and torn books, all came to my table--
covers like rags. I undressed them further: removed
battered cloth with cuts through the spine and name,
down inside joints still holding flapping limbs to well-stitched pages.
Once undone, I would fashion a cast--red, green, black, or blue--
cut cloth and bristol board, build a new spine,
fasten on the covers with a batch of glue I made that week.
The dressing so fitted, I would paint pages back together, layer tissue
over tears, splint the bent corners, slip waxed paper
under the eyelids of the book. In my windowless room,
a ward of old books lay quiet, pinned and drying
between bricks and boards. My handwriting later named them,
numbered and tagged them, sent them back to metal shelves.
Katherine Bode-Lang earned her MFA at Penn State, where she is the assistant director of The Methodology Center. She lives in central Pennsylvania.
American Poetry Review, 9780971898196, 75pp.
Publication Date: October 7, 2014
About the Author
Katherine Bode-Lang: Katherine Bode-Lang was born and raised in western Michigan. Winner of the 2014 APR/Honickman Prize, she earned her MFA at Penn State University, where she is the Assistant Director of The Methodology Center, an NIH-funded research center focused on public health. She lives in central Pennsylvania.