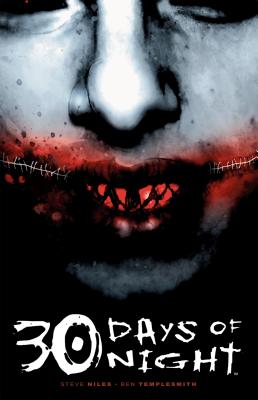 30 Days Of Night
Paperback

* Individual store prices may vary.
Other Editions of This Title:
Paperback (11/20/2007)
Hardcover (2/8/2005)
MP3 CD (3/12/2019)
Paperback (11/30/2004)
Description
In a sleepy, secluded Alaska town called Barrow, the sun sets and doesn't rise for over thirty consecutive days and nights. From the darkness, across the frozen wasteland, an evil will come that will bring the residents of Barrow to their knees. The only hope for the town is the Sheriff and Deputy, husband and wife who are torn between their own survival and saving the town they love.
Praise For 30 Days Of Night…
"…a short, sharp shocker of a horror tale with an original premise and a Matterhorn-sized mountain of tension." –Maxim

"The comic in your hands has much of the raw, even brutal energy of a horror movie from the good old days. Short, sharp and unforgiving. It's got a catchy title, a wonderfully clever, but simple idea at its chilly heart, and a narrative that starts at a run and never slows down." — Clive Barker

"Writer Steve Niles plays on common fears of isolation, darkness, and monsters in a story that's more chilling than its locale. A good writer could extrapolate any one of these fears into a thrilling story, but
Niles succeeds in pushing all of these buttons with the right frequency to produce a story that's not just chilling, but downright scary." —Jim Johnson, Comics Buyer's Guide

"Above all else, 30 Days of Night reads like a horror movie—a great horror movie. If you thirst for something that's guaranteed to scare the pants off you, you've gotta pick this up. But take my advic —read it with the lights on." —Casey Seijas, Wizard Magazine
IDW Publishing, 9780971977556, 104pp.
Publication Date: March 27, 2007
About the Author
Steve Niles is a comic book author and novelist, known for works such as 30 Days of Night, Criminal Macabre, Simon Dark, Mystery Society and Batman: Gotham County Line. He is credited among other contemporary writers as bringing horror comics back to prominence.

Ben Templesmith is a New York Times best selling artist and writer most widely known for his work in the comic book industry where he has received multiple nominations for the International Horror Guild Awards as well as the industry's top prize, the Eisner Award. He also won a Spike TV Scream Award. As a creator, his most notable works have been 30 Days of Night (which spawned a major motion picture) and Fell. His other projects include the critically acclaimed serial Wormwood: Gentleman Corpse, as well as Welcome to Hoxford, and Singularity 7, all of which he also wrote.