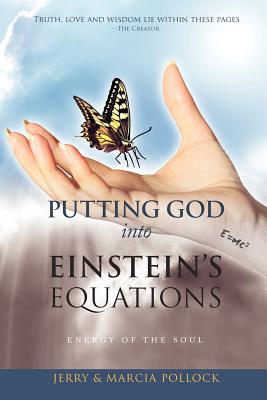 Putting God Into Einstein's Equations (Paperback)
Energy of the Soul
Shechinah Third Temple, Inc., 9780972386661, 200pp.
Publication Date: April 13, 2012
* Individual store prices may vary.
Description
Putting God Into Einstein's Equations: Energy of the Soul is the direct outcome of an unusual and unique collaboration by soul mates Marcia and Jerry Pollock spanning the spiritual and physical worlds. Marcia is deceased, and her contributions come from the powerful intelligent energy of her Divine soul, which is without her physical body in the spirit world. Jerry is alive with his Divine soul, which is constrained within his physical body on planet Earth. Communicating through thought-energy telepathy or channeling, the authors have written this exquisitely, simply explained book in their humble attempt of gratitude to bring new knowledge to the understanding of God's Essence and our world. The Creator Himself has endorsed our book, "TRUTH, LOVE AND WISDOM LIE WITHIN THESE PAGES." Putting God Into Einstein's Equations: Energy of the Soul is a provocative book that will stay with you long after you finish reading it. Have you ever wondered about how a psychic contacts a spirit or where God comes from? The book answers questions about God, the big bang, Einstein's Relativity Equations and how they fit in with God's energy, soul mates and love, the spirit world of souls, past lives, telepathic thought-energy communication, channeling, removing negative body-soul energy, intelligence of the soul, independent and combined functions of the soul versus the human brain, acquiring spirituality, miracles, resurrection and reincarnation, the Devil, good and evil, science and spirituality, Creation and Evolution, and how a new soul that God will give us in the future Messsianic Age at the End of Days will allow us to live for the eternity according to Einstein's Equations. God is energy and so is our Divine soul. Each of us receives a tiny "piece" of God's virtually infinite energy, and the difference between our energy and that of God is simply the enormous difference in order of magnitude when comparing God's energy to ours. The behavior of this energy mirrors the equations brilliantly originated and described by Albert Einstein with two exceptions -- the mass, m referenced in Einstein's famous equation, E=mc2, is a special Mass, M, originating in God's energy particles, and God's and our soul energy travels at one million times the speed of light, c, or 186 billion miles per second. In fact, this Mass is the source of the independent intelligence and sensory properties found in the soul of all human brains. Putting God Into Einstein's Equations: Energy of the Soul is a provocative and compelling book that weaves together empirical, scientific observation, academic research, and theoretical and theological considerations, bolstered by revelatory, first-hand testimony bearing witness to the existence of the Divine soul in both the physical and spirit worlds. Contained in the pages of Putting God Into Einstein's Equations are moving, personal reflections on the authors' life experiences, from the thrill of discovering one's true soul mate to both traumatic and joyous events like a descent into bipolar depression, Divine miracles, and the pain and loss associated with the death of a loved one. Equally explored and discussed are practical first hand experiential techniques for hypnotic-spiritual world regression and directing spiritual energy and using light to alleviate negative forces. Above all else, Putting God Into Einstein's Equations seeks to advance an awareness and comprehension of God, drawing upon points of reference as diverse as Qigong and yoga to the word of rabbinical scholars.
About the Author
Marcia Pollock is a graduate of Stony Brook University on Long Island with a major in Psychology. She holds a masters degree in Special Education Teaching from C.W. Post University, also on Long Island. Putting God Into Einstein's Equations: Energy of the Soul is her first book. The uniqueness of her contribution resides in her coauthoring this book with her husband and soul mate, Jerry, from the spirit world. Marcia passed on March 18, 2011, from liver cancer. She retired from the Brentwood School District in July 2005. Her soul lives on for all eternity. Jerry Pollock has a bachelor of science and master of science in Pharmacy from the University of Toronto. He obtained his PhD in Biophysics at the Weizmann Institute of Science in Israel in 1969, and then went on to New York University Medical Center for four years as a postdoctoral fellow and assistant professor of Microbiology. Until July 2006 he was professor of Oral Biology and Pathology at Stony Brook University and is now professor emeritus. Dr. Pollock recently completed Marcia's Memoirs, The Wing of the Butterfly, for family and friends. He is the author of Divinely Inspired: Spiritual Awakening of a Soul; Messiah Interviews: Belonging to God; and Gog and Magog: The Devil's Descendants. He is also the author of a stage play, Code Name Daniel that appeared off Broadway in New York in July 2010. Jerry currently resides in Florida in constant touch with Marcia in Heaven. Marcia and Jerry wrote this book for God, as it is their humble attempt to give back to the Creator for the gifts He continues to bestow upon them.