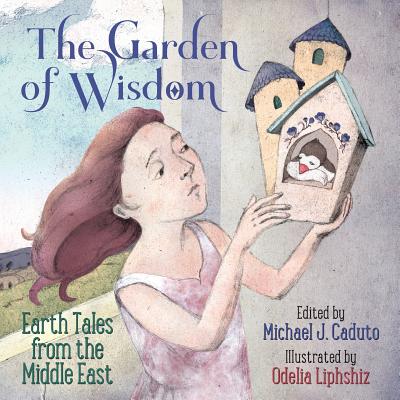 The Garden of Wisdom (Paperback)
Earth Tales from the Middle East
Green Heart Books, 9780972751827, 158pp.
Publication Date: May 1, 2018
Other Editions of This Title:
Hardcover (2/14/2018)
* Individual store prices may vary.
Description
AWARDS -- Foreword INDIES Book of the Year Awards Finalist, Storytelling World Award, Green Earth Book Award (long list), Middle East Book Award (nominee)
Recipient of the National Storytelling Network's Brimstone Award for Applied Storytelling, in recognition of the transformative properties of storytelling on individuals and communities.
Traditional stories, with a twist of humor, take children on a journey borne on the wings of their imaginations, revealing knowledge and wisdom to help them care for Earth and live in harmony.
Life is a journey. Who dares to enter The Garden of Wisdom to be tested? Who seeks to be moved by empathy and love to discover a place of caring and compassion for all living things? Who likes to laugh, and enjoys a great story? From the heights of Mount Hermon to the depths of the Dead Sea, the Middle East is a land of stories that convey life lessons that have been handed down through the generations: protection of endangered species, habitats, and water quality, knowledge of healing plants, and the virtues of truth, justice, and generosity. Time-honored wisdom shows children how to live in kinship with Earth and humankind while celebrating the wonder and beauty of nature.
Ten years in the making, these authentic tales were gathered from oral tradition among the traditional keepers of stories throughout the Middle East. Stories are arranged by theme: Animals, Plants, Friendship, Stewardship, and Wisdom. Exclusive sections for parents and teachers reveal the sources of the stories, suggest lessons to teach from each story, and share the journey behind this unique book. Includes an informative essay about nature and environmental issues in the Middle East.
MICHAEL J. CADUTO is an award-winning author in natural history, environmental education, climate change education, and Earth stewardship, and a master performer of stories and original music. His books include the international bestselling Keepers of the Earth(R) series (creator/co-author), Pond and Brook, Catch the Wind--Harness the Sun, and Riparia's River. Look for his books and programs at: www.p-e-a-c-e.net
ODELIA LIPHSHIZ is an accomplished illustrator and artist based in Israel. She creates worlds of fantasy and wonder for children, and for everyone who is a child at heart. Odelia has illustrated children's books for A.A Milne, Nurit Zarchi, and more. Says Odelia, "I am a peace seeker, dreamer, and a great believer." More of her works can be found at: www.Odelialeaf.com