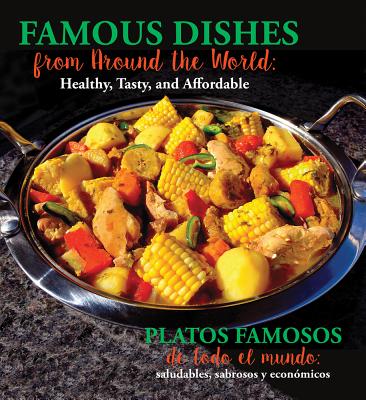 Famous Dishes from Around the World / Platos famosos de todo el mundo (Paperback)
Healthy, Tasty and Affordable / saludables, sabrosos y económicos
Moonstone Press LLC, 9780972769723, 85pp.
Publication Date: May 13, 2019
* Individual store prices may vary.
Description
English/Spanish. With well-known ethnic recipes that are both tasty and healthy, this book seeks to pay homage to immigrants through their culinary contributions to the United States. Compiled by lovers of good ethnic food who have lived all around the world, it features 30 well-known dishes that are identified with specific countries worldwide, such as Colombian Sancocho, French Ratatouille, Indian Vegetable Korma, Mexican Fajitas, Moroccan Tagine with Chicken, Greek Moussaka (with Turkey), Polish Lentil Stew, Indonesian Satay with Peanut Sauce, and Spanish Paella. The book includes background information about each dish, calorie and nutrition breakdowns of each recipe, and sections called "Cooking Tips and Tricks" and "Healthy Hints for the Home Cook." Famous Dishes is timely given our country's current political state of affairs, and that it provides an engaging blend of both good food, ethnicity and health.
About the Author
Moonstone Press LLC, a small company based in Sarasota, Florida, was established by former international photojournalist, Stephanie Maze, whose work appeared in publications worldwide for more than 30 years, including National Geographic, Newsweek, the New York Times, People, the San Francisco Chronicle, Smithsonian Magazine, Time, and the Washington Post. She creates bilingual books for children and adults that deliver healthy eating and exercise habits. She is also the creator of the acclaimed I Want to Be . . . series of children's books, including I Want to Be a Chef, I Want to Be an Engineer, and I Want to Be a Veterinarian. She lives in Sarasota, Florida.