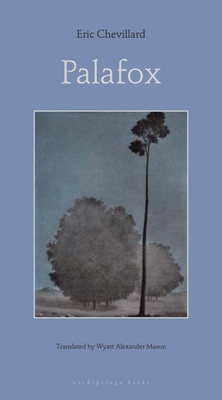 Palafox (Paperback)
Archipelago, 9780972869249, 136pp.
Publication Date: July 1, 2004
* Individual store prices may vary.
Description
Eric Chevillard's visionary play of word and thought has been compared to the work of Beckett, Michaux, and Pinget, yet the universe he spins is utterly his own. Palafox (Editions de Minuit, 1990), Chevillard's third novel of eleven, explores the ecosystem of an unclassifiable yet enchanting protean creature, Palafox. A team of experts armed with degrees of higher learning is determined to label, train, baptize, and realize the elusive creature, while Palafox effortlessly and wordlessly defies them all.
About the Author
Eric Chevillard is one of the most inventive authors writing in French today. His novels include On the Ceiling, The Crab Nebula, and Demolishing Nisard, all translated by Jordan Stump, and Palafox (Archipelago), translated by Wyatt Mason.

Wyatt Mason has translated several books by Pierre Michon, including Masters and Servants (Mercury House, 1997) and The Origin of the World (Mercury House, 2002). His edition of Rimbaud's complete works in two volumes, Rimbaud Complete and I Promise to be Good, is published by Modern Library. In 2003, he was named a Fellow of the Dorothy and Lewis B. Cullman Center for Scholars and Writers of the New York Public Library.
Praise For Palafox…
Imagine . . . a comedy of manners, a supernatural tale, a sly commentary on science's quest for knowl- edge, a sad story about a creature that seems to possess characteristics common to marsupials, reptiles, and amphibians, not to mention insects and humans, and you have an inkling of what Eric Chevillard has done in his dark, disturbing, delightful, downright funny story of Palafox. Now mix into this brew some of Ronald Firbank's verbal fireworks, Italo Calvino's imaginative flights of exquisite writing, and Raymond Roussel's weird deadpan logic, and you get a little more of an inkling. And, if this is not enough to whet your appetite, imagine something new born under the sun. The sun, however, is shining on a dining table surrounded by people who you might, on a good day, call eccentric. —John Yau

Mix together one pinch of surrealism, one pinch of 'situationalism,' stir in a large measure of poetry, quite a bit of talent and you will get a glittering novel of intelligence and humor . . . —Jean-Claude Lebrun, Révolution

Eric Chevillard involves his reader in a powerful meditation on evil, foolishness, and inhumanity lurking in the heart of man. —Jean-Maurice de Montremy, Lire

The current American new fabulism could learn a great deal from this very amusing book and its willingness to take real narrative risks...Beautifully translated by Wyatt Mason, Palafox is a must for anyone intersted in anti-realist fiction. —Rain Taxi

Eric Chevillard involves his reader in a powerful meditation on evil, foolishness, and inhumanity lurking in the heart of man. —Jean-Maurice de Montremy
or
Not Currently Available for Direct Purchase