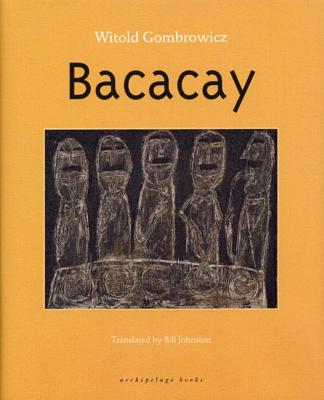 Bacacay (Hardcover)
Archipelago Books, 9780972869294, 275pp.
Publication Date: September 24, 2004
* Individual store prices may vary.
or
Not Currently Available for Direct Purchase
Description
A balloonist finds himself set upon by erotic lepers...a passenger on a ship notices a human eye on the deck...a group of aristocrats enjoy a vegetarian dish made from human flesh...a virginal young girl gnaws raw meat from a bone...a notorious ruffian is terrorized by a rat. Welcome to the bizarre universe of Witold Gombrowicz, whose legendary short story collection is presented here for the first time in English. These tales, hilarious, disturbing, and brilliantly written, are utterly unique in world literature. After reading them, you'll never be the same.
About the Author
Witold Gombrowicz (1904-1969) is considered the most remarkable Polish prose writer of the 20th century. He is the author of Ferdydurke, Trans-Atlantyk, Pornografia, and Cosmos, as well as plays, stories, and his Diary. Gombrowicz lived in Buenos Aires for over twenty years and spent his last in France. In 1967 he was awarded the Prix Formentor for his contribution to world literature. Bill Johnston is the Chair of the Comparative Literature Department at Indiana University. His translations include Magdalens Tulli's Dreams and Stones, Moving Parts, Flaw, and In Red. His 2008 translation of Tadeusz Ro?ewicz's new poems won the inaugural Found in Translation Prize and was shortlisted for the National Book Critics Circle Poetry Award.
Praise For Bacacay…
Gombrowicz is one of the most original and gifted writers of the twentieth century: he belongs at the very summit, at the side of his kindred spirits, Kafka and Céline. This collection of his stories will serve as an admirable and fascinating introduction to his oeuvre. —Washington Post Books World

These are weird and wonderful and erudite as anything by Borges and Joyce…It¢s safe to think of Bacacay as Gombrowicz¢s Dubliners: a collection of complex and sophisticated short stories that contain within them all the seeds of the author¢s later artistic blooming. —The Believer

This version of Bacacay raises the bar for all Gombrowicz translations and makes an excellent introduction for readers new to his tragicomic world. —The Nation

As in Gombrowicz¢s airily bizarre novels…lucid, concise narratives are weighted with outrageous premises and absurd developments that recall the work of Kafka, Beckett, Bruno Schulz, and (especially) Ionesco… Johnston¢s brilliant translations vividly convey the radically unconventional content and style of one of the 20th century¢s strangest—and greatest—writers. —Kirkus Reviews

Grotesque, erotic, and often hilarious, the stories immediately established Gombrowicz's extraordinary voice...As creepy as Poe and as absurdist as Kafka. —The New Yorker

Gombrowicz's extravagant, gleefully anarchic gifts explode on every page of his early collection Bacacay. And the wit and verve Bill Johnston brings to his daunting task produce a translatorly tour de force—the most riotously readable English Gombrowicz yet. —Clare Cavanagh

One of the great novelists of our century. —Milan Kundera
Advertisement