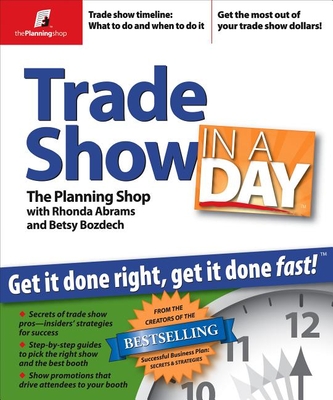 Trade Show in a Day (Paperback)
Get It Done Right, Get It Done Fast!
Planning Shop, 9780974080178, 184pp.
Publication Date: December 1, 2006
* Individual store prices may vary.
Description
The person in charge of the company's booth at a trade show has to manage many details from picking the booth, getting everything set up and attracting potential customers. This handy guide shows readers how to manage logistics and get the most out of their trade show dollars. A step-by-step timeline covers selecting and designing a winning booth, saving money on trade show services, developing promotions that drive attendees to the booth, detailed logistics planning including preparing budgets, and sample scripts for talking to people who visit the booth.
From the Publisher
Trade shows are the single best form of marketing for many businesses in the US. They provide an outstanding way to find new customers, secure leads, make sales, check out the competition, and reconnect with current customers.But a successful trade show experience doesn't just happen. It takes planning. And planning a trade show can be confusing, expensive, and time-consuming. Trade Show In A Day walks you through the process, showing you how to choose the right show, select the best booth, merchandise your products or services, and most importantly, how to secure leads and turn them into customers.Before you spend thousands—if not tens of thousands—on your trade show exhibit, use this complete guide to ensure you make the most of your trade show experience and succeed in reaching your goals!
About the Author
Entrepreneur, author, and nationally syndicated columnist Rhonda Abrams is widely recognized as one of the leading experts on entrepreneurship and small business. Rhonda's column for USA Today, "Small Business Strategies," the most widely distributed column on small business and entrepreneurship in the United States, reaches tens of millions of readers each week. She has written more than a dozen other books on entrepreneurship and her books have sold more than a million copies. Sign up for her monthly newsletter at planningshop.com.The Planning Shop specializes in creating business resources for entrepreneurs. Our books are based on years of real-world expereince and share the secrets and strategies of entrepreneurs, CEOs, investors, and lenders. The Planning Shop's books have been used to launch, run, and grow successful businesses in every industry.
or
Not Currently Available for Direct Purchase