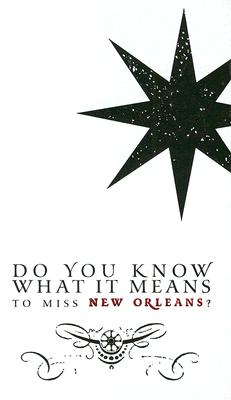 Do You Know What It Means to Miss New Orleans? (Hardcover)
Chin Music, 9780974199511, 156pp.
Publication Date: March 1, 2006
* Individual store prices may vary.
Description
This beautifully designed hardcover book starts with a line of cars leaving the city ahead of Hurricane Katrina and ends in a mad Mardi Gras romp. The book winds through the streets of New Orleans toward a deeper understanding of just what this great, wounded city means to the United States. Many of the essays in this collection were composed by writers trying to piece their lives together in the aftermath of the hurricane. Written in places like Baton Rouge, Houston, and Lafayette, these stories create a bridge back to the old New Orleans. And as the battle for this city rages on, this book becomes a razor-sharp weapon in the fight against corporate and governmental attempts to neuter a unique American city.
The structure of the book parallels a New Orleans jazz funeral, mournful on the approach and celebratory on the return. Woven throughout the book is a series of interviews with New Orleans residents from all walks of life-jazz pianists, grain traders, tour guides, and others who make up this city. "Do You Know What It Means to Miss New Orleans?" takes intimate looks at old New Orleans staples such as Cajun food and Zydeco music as well as some unexpected views on race, economics and living in exile.
"Do You Know What It Means to Miss New Orleans?" is the second book from Chin Music Press. Chin Music released "Kuhaku & Other Accounts from Japan" in the spring of 2005 and immediately established itself as a publisher focused on meticulous design and collaboration among artists and writers. As "Bookslut.com" notes: "From the looks of their first title, it is clear they are positioning themselves to be a presence the publishing world has never seen before . . . Chin Music Press] is a company that is rewriting the rulebook and making a beautiful and interesting product in the process."
Reviews:
"What's your favorite Katrina book?" a friend asked me last week. And I really couldn't say. They're all different, each fulfilling a personal vision, each adding something to our common narrative. Sometimes my favorite book is a little anthology, "Do You Know What It Means to Miss New Orleans?," a gorgeous little small-press title edited by University of New Orleans English professor David Rutledge." - Susan Larson, Times-Picayune
"So lovely to look at, so pleasant to hold, with a bit of intrique or insight on every page." - The Times-Picayune
" The book] is a literary tempest that assaults the reader with detailed, unpredictable, and unique happenings that a superficial spring-breaker might otherwise miss." - The Internationalist Magazine
or
Not Currently Available for Direct Purchase