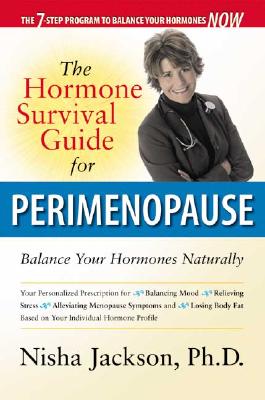 The Hormone Survival Guide for Perimenopause (Paperback)
Balance Your Hormones Naturally
Larkfield Publishing, 9780974206707, 192pp.
Publication Date: May 1, 2004
* Individual store prices may vary.
Description
Explaining why women between the ages of 35 and 50 often experience significant changes in mood, weight, sex drive, and general well-being due to hormonal imbalances, this guide shows women how to regain control of their hormones—and their lives—and feel good again through natural means. Women who have had long-standing physical and emotional complaints written off by doctors as normal or genetic are provided with step-by-step solutions to such hormone-related problems as weight gain, fibroids, sex-drive doldrums, adult acne, depression, anxiety, irritability, chronic fatigue, and facial hair. Perimenopausal women will be able to regain control of their health by putting together a game plan for renewal—including hormone balancing and weight management plans that will help them feel better—with dramatic, life-changing results.

About the Author
Nisha Jackson, PhD, is the owner of Southern Oregon Health and Wellness, P.C., a practice dedicated to hormonal health, and Body Analysis Clinic, Inc., a medical weight management center. She lives in Medford, Oregon.

Praise For The Hormone Survival Guide for Perimenopause: Balance Your Hormones Naturally…
"This is a great book, giving women concrete actions and guidelines for managing their own health." —George Gillson, M.D., Ph.D., author, You've Hit Menopause: Now What?

"Dr. Nisha Jackson has done an excellent job of understanding the healthcare plight of the perimenopausal woman." —Neal Rouzier, M.D., author, Natural Hormone Replacement for Men and Women