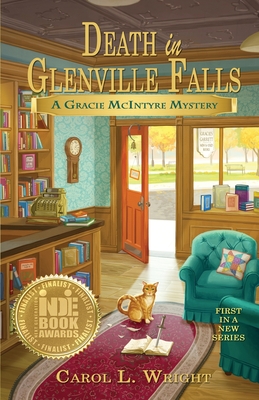 Death in Glenville Falls
A Gracie McIntyre Mystery
Paperback

* Individual store prices may vary.
Description
Early September is a time for new beginnings in a college town, and Gracie McIntyre braces for hers.
Gracie left the practice of law eighteen years ago, after losing a client to an apparent murder/suicide. Since then, she's been a stay-at-home mom and part-time professor at the local college. Now that her son has gone off to university and her daughter has started high school, she is ready for a new adventure. But opening a new-and-used book shop gives her more than she bargains for.
Days after her grand opening, she finds a threatening message outside her door. When she refuses to heed the warning, violence escalates. What's worse, she suspects a police officer might be the culprit. She soon realizes she's on her own to find a way to save her store--and possibly her life.
Featuring a cast of memorable characters, and bringing together a love of books, New England charm, and the challenge of a good puzzle, DEATH IN GLENVILLE FALLS will keep you turning pages right up to the surprising conclusion.
Cozy Den Press, 9780974289137, 296pp.
Publication Date: August 29, 2017