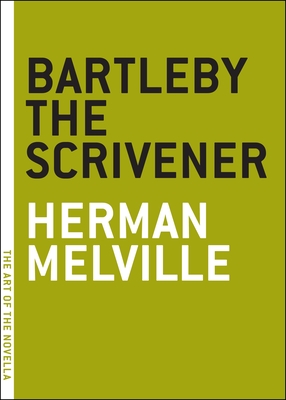 Bartleby the Scrivener (The Art of the Novella) (Paperback)
Melville House, 9780974607801, 80pp.
Publication Date: May 1, 2004
Other Editions of This Title:
Digital Audiobook (10/2/2011)
Paperback (7/4/2018)
Paperback, Large Print (9/8/2015)
Paperback (9/7/2018)
Paperback (1/24/2019)
Paperback (8/31/2019)
Paperback (5/8/2019)
Paperback (7/8/2019)
Paperback (9/25/2018)
Paperback (6/21/2016)
Paperback (9/5/2017)
Paperback (6/28/2016)
Hardcover (8/27/2018)
Paperback (8/27/2018)
Paperback (9/4/2019)
Paperback (6/2/2016)
Hardcover (1/9/2019)
* Individual store prices may vary.
Description
"I prefer not to," he respectfully and slowly said, and mildly disappeared.

Academics hail it as the beginning of modernism, but to readers around the world—even those daunted by Moby-Dick—Bartleby the Scrivener is simply one of the most absorbing and moving novellas ever. Set in the mid-19th century on New York City's Wall Street, it was also, perhaps, Herman Melville's most prescient story: what if a young man caught up in the rat race of commerce finally just said, "I would prefer not to"?

The tale is one of the final works of fiction published by Melville before, slipping into despair over the continuing critical dismissal of his work after Moby-Dick, he abandoned publishing fiction. The work is presented here exactly as it was originally published in Putnam's magazine—to, sadly, critical disdain.

The Art of The Novella Series

Too short to be a novel, too long to be a short story, the novella is generally unrecognized by academics and publishers. Nonetheless, it is a form beloved and practiced by literature's greatest writers. In the Art Of The Novella series, Melville House celebrates this renegade art form and its practitioners with titles that are, in many instances, presented in book form for the first time.
About the Author
Herman Melville was born in New York City in 1819. At eighteen he set sail on a whaler, and upon his return, wrote a series of bestselling adventure novels based on his travels, including Typee and Omoo, which made him famous. Starting with Moby-Dick in 1851, however, his increasingly complex and challenging work drew more and more negative criticism, until 1857 when, after his collection Piazza Tales (which included Bartleby the Scrivener), and the novel The Confidence Man, Melville stopped publishing fiction. He drifted into obscurity, writing poetry and working for the Customs House in New York City, until his death in 1891.
Praise For Bartleby the Scrivener (The Art of the Novella)…
"I wanted them all, even those I'd already read."
—Ron Rosenbaum, The New York Observer

"Small wonders."
—Time Out London

"[F]irst-rate…astutely selected and attractively packaged…indisputably great works."
—Adam Begley, The New York Observer

"I've always been haunted by Bartleby, the proto-slacker. But it's the handsomely minimalist cover of the Melville House edition that gets me here, one of many in the small publisher's fine 'Art of the Novella' series."
—The New Yorker

"The Art of the Novella series is sort of an anti-Kindle. What these singular, distinctive titles celebrate is book-ness. They're slim enough to be portable but showy enough to be conspicuously consumed—tiny little objects that demand to be loved for the commodities they are."
—KQED (NPR San Francisco)

"Some like it short, and if you're one of them, Melville House, an independent publisher based in Brooklyn, has a line of books for you... elegant-looking paperback editions ...a good read in a small package."
—The Wall Street Journal