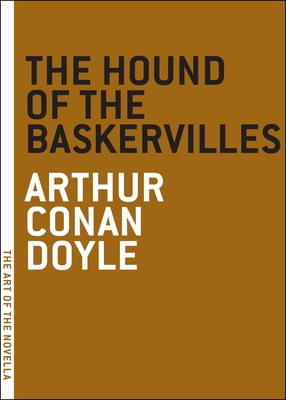 The Hound of the Baskervilles (The Art of the Novella) (Paperback)
Melville House, 9780974607870, 224pp.
Publication Date: July 26, 2005
Other Editions of This Title:
Paperback (1/31/2018)
Paperback (3/18/2018)
Paperback (9/25/2017)
Paperback (1/6/2017)
Paperback (9/20/2017)
Paperback (8/24/2017)
Paperback (10/13/2017)
Paperback (10/1/2017)
Paperback (1/31/2018)
Paperback (9/7/2017)
Paperback (8/3/2017)
Paperback (4/7/2018)
Paperback (1/28/2018)
Paperback (11/22/2017)
Paperback (12/28/2017)
Paperback (3/30/2018)
Paperback (11/2/2017)
Paperback (8/20/2017)
Paperback (9/29/2017)
* Individual store prices may vary.
Description
"It's an ugly business, Watson, an ugly dangerous business, and the more I see of it the less I like it."

Sherlock Holmes had been dead for eight years—killed of in another story—when Arthur Conan Doyle decided to bring the famous detective back for a new story that he told friends was turning into "a real creeper".

The tale about the chilling re-animation of a curse haunting the Baskerville family since Medieval times, wherein a supernatural beast stalks the gloomy moors, would be the most sensationally successful of all the Holmes stories, and a century later, it is still the most thrilling of them all. Full of moody atmospherics, suspicious characters, and dramatic discoveries, The Hound of the Baskervilles also shows off something often overlooked about Doyle: his wonderful prose. Presented here as it first appeared in The Strand magazine in 1901, this great mystery still strikes many as the best ever written.

The Art of The Novella Series

Too short to be a novel, too long to be a short story, the novella is generally unrecognized by academics and publishers. Nonetheless, it is a form beloved and practiced by literature's greatest writers. In the Art Of The Novella series, Melville House celebrates this renegade art form and its practitioners with titles that are, in many instances, presented in book form for the first time.
About the Author
Arthur Conan Doyle was born in Edinburgh in 1859. In medical school he studied with Dr. Joseph Bell, who encouraged students to use their innate powers of observation. With Bell as his admitted inspiration, Doyle published his first Sherlock Holmes story, "A Study in Scarlet," in 1887, to phenomenal success. He subsequently published many other types of writing, and served as a doctor in the Boer War. Bored with the Holmes stories, he killed off the character in 1893, but after a public outcry, brought him back. After the death of his son in World War I, Doyle wrote increasingly about spiritualism, until his own death in 1930.
Praise For The Hound of the Baskervilles (The Art of the Novella)…
"I wanted them all, even those I'd already read."
—Ron Rosenbaum, The New York Observer

"Small wonders."
—Time Out London

"[F]irst-rate…astutely selected and attractively packaged…indisputably great works."
—Adam Begley, The New York Observer

"I've always been haunted by Bartleby, the proto-slacker. But it's the handsomely minimalist cover of the Melville House edition that gets me here, one of many in the small publisher's fine 'Art of the Novella' series."
—The New Yorker

"The Art of the Novella series is sort of an anti-Kindle. What these singular, distinctive titles celebrate is book-ness. They're slim enough to be portable but showy enough to be conspicuously consumed—tiny little objects that demand to be loved for the commodities they are."
—KQED (NPR San Francisco)

"Some like it short, and if you're one of them, Melville House, an independent publisher based in Brooklyn, has a line of books for you... elegant-looking paperback editions ...a good read in a small package."
—The Wall Street Journal
or
Not Currently Available for Direct Purchase