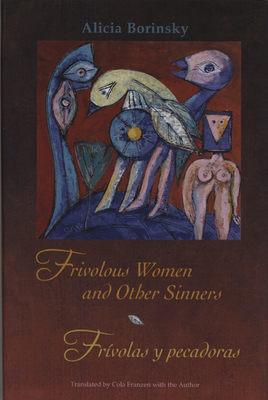 Frivolous Women and Other Sinners / Frívolas y pecadoras
Hardcover

* Individual store prices may vary.
Description
Tango and fairy tales mix freely in this seductive, irreverent, and sensual collection of poems. From a city that is at once Buenos Aires and all others, Alicia Borinsky brings to life reluctant mothers, slightly mad teachers, selfless wives, neighborhood witches, best friends, sworn enemies, torturers, vamps, cheats, and lovers—a gallery of characters who wink and boldly gaze back at us. Vignettes become poems and poems become vignettes, reflections that dance, reveal, conceal, enchant, confess, and dream. 
Frivolous Women invites us to visit the darker and lighter sides of laughter and love and feel the tenderness of recovered memories as we cross the bridges of relationships and stroll down the mysterious streets of childhood. Alicia Borinsky reminds us that the revelations of poetry are always intimate and dangerous. Cola Franzen's agile and insightful translation, crafted in close collaboration with the poet, is faithful to the letter and spirit of the original Spanish in this bilingual edition.    
Praise For Frivolous Women and Other Sinners / Frívolas y pecadoras…
"While the title almost implies a reproach,
Frivolous Women and Other Sinners
is a celebration of the eccentric, defiant, glamorous cast of characters who inhabit Borinsky's poetry—women doing their level best to give sin a good name. In many ways, the collection invites comparison to Sappho. . . . Borinsky has both charm and core. . . . The English-language poems retain the bounce of the Spanish originals and are bursting with confidence."
— University of Arizona Poetry Center
"It's rare to find a poet who is as unabashedly narrative and playful as Borinsky. Add to that her pleasing idiosyncrasies in language and subject, and Borinsky's new collection is an unusual and worthwhile read."
— Adam Eaglin
"The latest publication of the Borinsky-Franzen team, Frivolous Women and Other Sinners/Frívolas y pecadoras is one of Borinsky's most powerful works to date. The original Spanish versions of the poems are sharp and witty, while their English translations are confident and creative. . . .This collection of poems exemplifies the collaborative endeavours of Borinsky and Franzen."
— Regina Galasso
Swan Isle Press, 9780974888149, 240pp.
Publication Date: May 30, 2009
About the Author
Alicia Borinsky is professor of Latin American and comparative literature and directs the Writing in the Americas program at Boston University. Her recent publications include Golpes Bajos/Low Blows.
 
Cola Franzen has collaborated with Alicia Borinsky in the translation of several of her books, among them Golpes Bajos/Low Blows, Sueños del seductorabandonado/Dreams of the Abandoned Seducer, and Mina cruel/Mean Woman. She lives in Cambridge, Massachussetts.
or
Not Currently Available for Direct Purchase