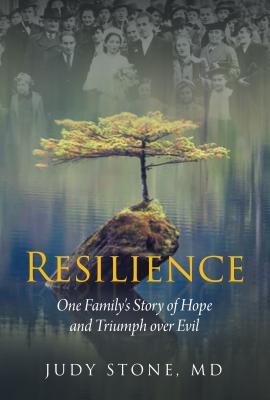 Resilience
One Family's Story of Hope and Triumph Over Evil
Paperback

* Individual store prices may vary.
Description
Like many children of Holocaust survivors, Judy Stone didn't know the details of her family's story when she was growing up.

In 2008, she attended the annual conference of the World Federation of Jewish Child Survivors of the Holocaust & Descendants and was told that less than 10 percent of Hungarian Jews from outside Budapest survived. Yet of the seven siblings on her mother's side, six had survived forced labor units, Auschwitz and other concentration camps, and death marches. In addition, Stone's father and his brother were together in labor units and Dachau from late 1942 until May 1945, except for the last six weeks of the war, and both survived.

Understanding for the first time that her family is unique, Stone started more seriously trying to put together the family's story. Thus came the story of Resilience, a unique perspective on the Holocaust.

To gather the information needed for this book, the author interviewed nine Holocaust survivors in her family and eight of their children, in addition to viewing USC Visual History Foundation tapes of other survivors and conducting extensive research.


Mountainside MD Press, 9780974917825, 392pp.
Publication Date: October 1, 2019
About the Author
Judy Stone, MD, is the daughter of Hungarian Holocaust survivors and has a longstanding interest in genealogy and family history. She also is an infectious diseases physician and the author of Conducting Clinical Research: A Practical Guide, which has been adopted as a text throughout the country. Stone had a busy solo, 100 percent ID practice in rural Cumberland, Maryland for 25 years and now works part-time as a locum tenens (substitute) physician. She is a Forbes Pharma and Healthcare contributor and previously wrote the Molecules to Medicine column for Scientific American. Stone particularly likes writing about the overlap between medicine, politics, and social justice issues, based on the values she was raised with. She studied briefly in Peru and Thailand and volunteered and taught in India. She still wants to save the world when she grows up and would love to teach overseas. She lives in Cumberland, Maryland.
or
Not Currently Available for Direct Purchase