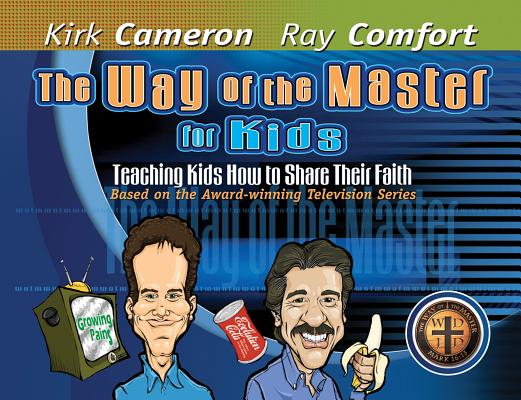 The Way of the Master for Kids (Hardcover)
Teaching Kids How to Share Their Faith
Genesis Publishing, 9780974930053, 112pp.
Publication Date: April 15, 2005
* Individual store prices may vary.
Description
What should you tell your children if they come home from school saying that the Bible is full of fairy tales and science has proved that man came from monkeys? Based on the television show "The Way of the Master," hosted by Kirk Cameron and Ray Comfort, this book will help you provide answers in a language your kids can understand.

Written for two age groups, this title should be part of every home and church. The book's first part gives 3- to 5-year-olds an understanding of God's love for them. The second part, for 6- to 10-year-olds, explains how we can know that God is real, who made God, why the Bible is true, how we can know that people didn't come from apes, and why bad things happen.

In addition, the book teaches children how to memorize the Ten Commandments in just five minutes, and helps them understand why they need Jesus, enabling them to reach their friends for Christ.
About the Author
Kirk Cameron is a television and film actor best known for his roles on the TV series "Growing Pains" and in the Left Behind movies. Co-host of "The Way of the Master" TV series, Kirk is also actively involved in quality family entertainment and travels throughout the country, making the most of every opportunity to further the gospel. Kirk and his wife, Chelsea, have six children and live in Southern California. Ray Comfort is the Founder/CEO of Living Waters Publications, an internationally recognized ministry whose aim is to reach the lost and equip Christians with every necessary resource to fulfill the Great Commission. Ray Comfort is the co-host (with Kirk Cameron) of the award-winning television program "The Way of the Master," which airs in 200 countries around the world. Ray is a best-selling author of more than 80 books. He and his wife, Sue, live in Southern California, where they have three grown children.