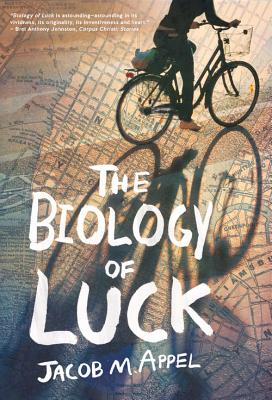 The Biology of Luck (Paperback)
Elephant Rock Productions, Inc., 9780975374689, 234pp.
Publication Date: October 7, 2013
* Individual store prices may vary.
Description
Odd-job queen Starshine Hart is about to go on somebody else's perfect date. At 29, the usually carefree Starshine has realized that it is easier to start sleeping with a man than to stop. Her lovers include one of the last underground members of the Weathermen and the dilettante heir to a lawn chair magnate. Both men have staked their romantic future on her. Her only respite is her impending dinner with the nonthreatening but unattractive tour guide Larry Bloom. But Larry, too, has a stake in her future. He has written a book about their impending dinner in which he fantasizes about Starshine's life on the day he wins her heart. Juxtaposing moments from Larry's guided tour of New York City on the June day of his "dream date" with excerpts from the novel in which he imagines Starshine's concurrent escapades, this inventive structure weaves a highly imaginative love story across all five boroughs. Provocative, funny, and keenly observed, an imagined pilgrimage through the underbelly of Gotham becomes a bold new voice in contemporary American fiction.
About the Author
Jacob M. Appel is an attorney and a practicing psychiatrist. His short fiction has appeared in more than 200 journals and magazines, including the "Boston Review," "Crab Orchard Review," and "Whistling Shade Magazine." He has won the Dundee International Book Prize, the Kurt Vonnegut Prize, the Tobias Wolff Award for Fiction, the Walker Percy Prize, and others. He is the author of "The Man Who Wouldn't Stand Up." He lives in New York City.
Praise For The Biology of Luck…
"Astounding in its vividness, its originality, its inventiveness and heart. This outstanding novel will draw worthy comparisons to Kurt Vonnegut and George Saunders, but more than anything I'm struck by the sheer force of Appel's vision and voice. The book marks the arrival of a trenchant and necessary voice in American letters. How lucky we are!" —Bret Anthony Johnston, author, Corpus Christi: Stories


"A delightful book that is ultimately about the act of writing and the power of love."  —Nicole Cooley, author,
Judy Garland, Ginger Love
"A burghers' banquet of the best of New York and an unapologetic romantic's hopes for the dreams of the last and most forgotten among us. Appel's novel is outstanding—a singular and extremely funny read for those of us who find our pleasures in contemplating loneliness and despair."  —Michael Dahlie, author, A Gentleman's Guide to Graceful Living


"Appel's clever, vigorously written, intently observed, and richly emotional tale, is spiked with canny observations about human nature. Do we inherit or create luck? Is beauty a burden or a gift? Can love transcend fantasy? Seductive and thought-provoking."  —Booklist


"Even the secondary characters are as vivid as any found in fiction. Though The Biology of Luck is only his second novel, Appel's status as a prolific writer is well-cemented."  —Green Mountains Review
When we first meet Larry Bloom, he's striding up Broadway, the New York Times under his arm and a pack of cigarettes in his shirt pocket, musing about how there should be a civil rights movement for short, relatively unattractive Jewish men. What sort of first impression did this make on you? And how did your impression of Larry change over the course of the book?generic viagra price canada
2. What do you make of the André Aciman quote Appel uses as an epigraph? Which characters do you think it applies to? And how does it work in relation to Larry Bloom's novel?generic viagra price canada
We learn little tidbits of Starshine's personal history throughout the novel, but that history, dramatic as it is, never really gets that much airtime. Did her history surprise you? How did your impression of her evolve as you learned about her past?generic viagra price canada
Larry Blooms takes us through a good chunk of New York City, peppering his tour group with historical factoids while also trying to protect them from some disconcerting events. How does Appel's New York City strike you—is he going for authenticity or hyperbole, or something in between?generic viagra price canada
Of the three love interests in Starshine's life (reciprocated or not), which do you think is the most appealing? And which makes the most sense for Starshine?generic viagra price canada
How important do you think the book-within-a-book structure is to the overall book, and to your enjoyment or frustration as a reader? Can you think of structural comparisons from film, music, or art?generic viagra price canada
At the end of chapter one, Larry tucks the letter from Stroop & Stone into his pocket without reading it. Why did Appel make this decision? Can you think of a time when you put off finding out important news like that?generic viagra price canada
How would you classify Appel's writing style? Are there other novelists, or periods, that his voice reminds you of?generic viagra price canada
Appel has called the book a postmodern love story. In the afterword he explains, "While the structure is 'postmodern' in the spirit of Donald Barthelme or John Barth, that's not what I meant when I wrote of a postmodern love story. Rather, I meant that the love itself is 'postmodern'—hyper-aware, ambivalent, fragmented. That's the world of romance that we live in today." Has he accurately captured the essence of dating in the twenty-first century? What examples from the book, or your experiences, capture hyper-aware, ambivalent, and fragmented attempts at finding a mate?generic viagra price canada
Theme is a reader's word, and Biology is full of many of the big themes we find in good fiction. But one theme that Appel clearly establishes is stated at the end of chapter one. "He is happy, happy in the way he knows he can be if he wills away the inevitable and succors himself with the remotest of hopes. That is the purpose of his book. That is the subject of his book. That is the reason that the city rises from its slumber." How is hope represented in the course of events that transpire on this one June day in New York City?generic viagra price canada
All great art owes something to its predecessors. Appel has said he paralleled parts of his novel after Homer's Odyssey and Joyce's Ulysses. What links did you discovery between these seminal works and Biology?generic viagra price canada
The most obvious question has to be asked—what is Starshine saying yes to, and what is she saying no to? Can you think of other books, or films, that end like this? Does that opened-ended mode work for you—why or why not?generic viagra price canada