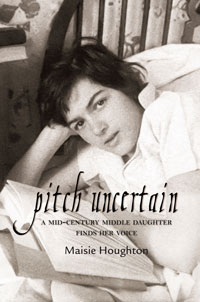 Pitch Uncertain
A Mid-Century Middle Daughter Finds Her Voice
Hardcover

* Individual store prices may vary.
Description
Touching and incisive, Pitch Uncertain is a beautifully drawn account of Maisie Houghton's struggle to find her own voice as the middle child of two parents whose marriage and lives she slowly decoded as she came of age in the 1950s. Growing up in the gentle ambience of Cambridge, Massachusetts, spending full summers in Dark Harbor, Maine, and regularly visiting her relatives in the socially polished reaches of greater New York, Maisie and her two sisters had the makings of an ideal childhood. But their parents were an enigma.
One of five sisters, Maisie's mother Sybil Jay was the "gentle doe" of an accomplished New York family that had morphed over the twentieth century into a resilient matriarchy. Charming and independent, Maisie's father, Frankie Kinnicutt, was the handsome, fun loving son of stolid New Yorkers whose emotional reserve and perfectly decorated residences were a stiff contrast to the liveliness of the Jay household. As parents, Sybil was diligent, caring and attentive—an anchor for the family, while Frankie was independent, playful, curious and remote—more sail than anchor.
With a novelist's sense of moment, Maisie explores her individually appealing parents and their estranged but oddly loyal relationship. Pitch Uncertain portrays an era and a genteel culture as much as it deciphers a marriage.
Praise For Pitch Uncertain: A Mid-Century Middle Daughter Finds Her Voice…
"This is an absolutely marvelous book. Following in the footsteps of Alcott and Wharton, Maisie Houghton captures a small yet important cell of American society—the vulnerable but still resilient world of high WASP culture. Revealing herself in no uncertain terms, she has written an engaging, sensitive, caring and always intelligent account of her youthful struggle to escape from the frozen amber of her early life. She has succeeded wonderfully." —Peter Duchin, bandleader and author of the memoir Ghost of a Chance
"In Maisie Houghton's luminous account of where she came from and who she became, the privileged worlds of Cambridge, Massachusetts, and coastal Maine are vividly evoked as background for the complex family she depicts with such compassionate insight and courageous candor. She has given us a small masterpiece of self-discovery and acceptance that will leave no reader untouched." —Walter Kaiser, Francis Lee Higginson Professor of English and professor of comparative literature emeritus, Harvard University
TidePool Press, 9780975555767, 224pp.
Publication Date: December 1, 2011
About the Author
Maisie Houghton was born in New York City, grew up in Cambridge, Massachusetts, in the fifties and graduated from Radcliffe College in 1962. With her husband, she has lived in Corning, New York, for over forty years. Pitch Uncertain is her first book.
or
Not Currently Available for Direct Purchase