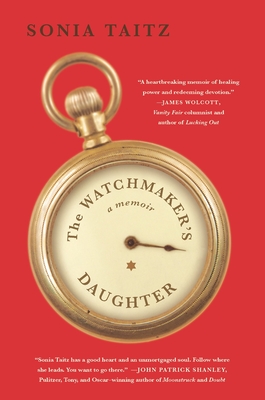 The Watchmaker's Daughter
A Memoir
Paperback

* Individual store prices may vary.
Description
The Watchmaker's Daughter tells the story of a child of two refugees: a watchmaker who saved lives within Dachau prison, and his wife, a gifted concert pianist about to make her debut when the Nazis seized power. In this memoir, Sonia Taitz is born into a world in which the Holocaust is discussed constantly by her insular concentration camp-surviving parents. This legacy, combined with Sonia's passion and intelligence, leads the author to forge an adventurous life in which she seeks to heal both her parents and herself through travel, achievement, and a daring love affair. Ironically, it is her marriage to a non-Jew that brings her parents the peace and fulfillment they would never have imagined possible. Sonia manages to combine her own independence with a tender dutifulness, honoring her parents' legacy while forging a new family of her own.
Praise For The Watchmaker's Daughter: A Memoir…
"An invigorating memoir...especially noteworthy for its essential optimism and accomplished turns of phrase." Kirkus Reviews

"Sonia Taitz, born to survivors of the Holocaust, lives under its long shadow in The Watchmaker's Daughter." Elissa Schappell, Vanity Fair

"Even now, as the last Holocaust survivors pass away, wrenching reverberations run through Taitz's poignant, poetic memoir." Booklist

"A heartbreaking memoir of healing power and redeeming devotion, Sonia Taitz's The Watchmaker's Daughter has the dovish beauty and levitating spirit of a psalm. The suffering and endurance of Taitz' parents Holocaust "death camp graduates" who met at the Lithuanian Jewish Survivor's Ball in a New York hotel (imagine Steven Spielberg photographing that dance floor tableau) form the shadow-hung backdrop of a childhood in a high-octance, postwar America where history seems weightless and tragedy a foreign import a Hollywood paradise of perky blondes, Pepsodent smiles, and innocent high-school hijinks where our author and heroine longs to fit in. Although the wonder years that Taitz scrupulously, tenderly, beautifully, often comically renders aren't that far removed from us, they and the Washington Heights she grew up in, the shop where her father repaired watches like a physician tending to the sick tick of life itself, the grand movie houses where the image of Doris Day sunshined the giant screen, have acquired the ache and poignance of a lost, Kodachrome age. A past is here reborn and tenderly restored with the love and absorption of a daughter with a final duty to perform, a last act of fidelity." James Wolcott, New Yorker and Vanity Fair cultural critic and author of the memoir Lucking Out

"Sonia Taitz has a good heart and an unmortgaged soul. Follow where she leads. You want to go there." John Patrick Shanley, Pulitzer, Tony, and Oscar-Winning author of Moonstruck and Doubt

"Sonia Taitz captures time in this deeply moving memoir of a women's journey back to herself. A love letter to a long ago New York, The Watchmaker's Daughter is written with a wise eye and a generous heart. Unforgettable!" Christina Haag, author of Come to the Edge

"Sonia Taitz's memoir of growing up as the daughter of a master watchmaker who survived the Holocaust is also a haunting meditation on the nature of time itself. With a painter's eye and a poet's voice, she conveys how it took her away from her loving but fearful parents then brought her back again, and allowed her to blossom as a modern American woman." Mark Whitaker, former Editor-in-Chief of Newsweek and author of the memoir My Long Trip Home

"Heartwrenching, moving, and yes, hilarious, Taitz's extraordinary memoir explores culture clash, Jewish roots, and the struggle to break the bonds of the past and forge your own kind of Promised Land future. But it's also an astonishing love letter to Taitz's Holocaust survivor parents, one that's so fiercely tender and gorgeously written that each page seems like a revelation." Caroline Leavitt, New York Times bestselling author of Pictures of You

Sonia Taitz's memoir of coming of age in postwar America is unusually gentle, loving, and insightful. Her parents' indelible experience in the Holocaust is a constant presence, but the author's compelling story is anchored by her own battles with conflicting notions of success and values. The book's understanding of family dynamics and the realities of the American Dream will resonate with us all." Joshua Halberstam, author of A Seat at the Table
McWitty Press, 9780975561881, 256pp.
Publication Date: October 23, 2012
About the Author
Sonia Taitz is the author of In the King's Arms, a novel which was praised by the New York Times Book Review as "beguiling." Vanity Fair essayist and critic Jesse Kornbluth dubbed Sonia Taitz the "the female, Jewish Evelyn Waugh" (surpassing Martin Amis and Philip Roth); ForeWord placed her in "in the province of the best poets, playwrights and novelists." Her previous book, Mothering Heights, garnered Sonia Taitz praise as "an incisive, funny writer"(People) who is both "wise and witty" (Publishers' Weekly); Mothering Heights was cited in O: The Oprah Magazine as "one of the best things ever written by famous writers on motherhood" (May, 2011). The Watchmaker's Daughter, a memoir, is the poignant tale of Sonia's binocular life as the American child of European concentration camp survivors. In it, she is adult and child, daughter and mother&mdash but always the inspired interpreter of her special historical legacy. Ms. Taitz earned a J.D. from Yale, and served as a Law Guardian for foster children and an ER advocate for assaulted women. She holds an M.Phil in English from Oxford, and won its Lord Bullock Prize for Writing. Her plays have been seen at the Oxford Playhouse, the National Theatre (in D.C.), New York's Primary Stages, and the Obie Award-winning Ensemble Studio Theatre, where she served as Writer-in-Residence.