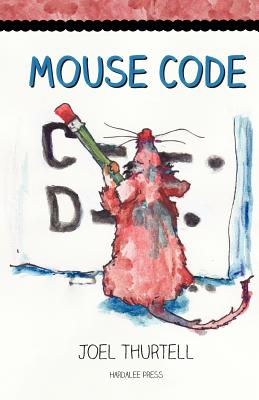 Mouse Code
Paperback

* Individual store prices may vary.
Description
Come with award-winning newspaper reporter, author and ham radio operator Joel Thurtell as he spins the tale of how mice invented radio to save themselves and their friends the moles, voles, shrews, groundhogs, badgers and yes, even a blue racer, from death by development. Humans are plowing up meadows and bulldozing trees so they can build houses, shopping centers, gas stations and all kinds of human constructions that displace wildlife. Enter Hannibal, the wise old field mouse who engineers a system to warn the animals of dangerous human activity. Hannibal's disciple, Arthur Mouse, is Hannibal's loyal foot soldier. At great danger from hawks, snakes, owls and a cat, Arthur steals books and materials from a ham radio operator so the mice can learn how to build their early warning radios. MOUSE CODE is aimed at entertaining both through its unique, exciting story and by offering young people Morse Code as a "secret" language for talking among themselves.. Says veteran ham operator George Petrides Sr., "One test of a story I have always liked is to read it out loud. MOUSE CODE scores a 10 in that category." Petrides read MOUSE CODE to his 10-year-old grand-daughter, Kaelyn, and reported that she "was instantly captivated by the characters, the plow, the letters V and B, the pompous words, the plight of the mice and (was) able to follow the plot with no difficulty. She could define all of the more difficult words in her own words so she learned vocabulary too. We're already having fun communicating in simple Mouse Code." Joel Thurtell received his first FCC ham radio license in June, 1959. His amateur radio call sign, KN8PSV, became K8PSV when he went from Novice to General class ham license in 1960. He now holds the Advanced class ham license. He also was licensed by the government of Togo as 5V7JT and operated in that West African country in 1990. Thurtell is a member of the American Radio Relay League and has written several articles about vintage radio for ARRL's journal, QST as well as Electric Radio and CQ. A newspaper reporter for more than thirty years at the Detroit Free Press and the South Bend Tribune, Thurtell has written often about ham radio. There is a ham radio category on his blog, joelontheroad.com, named "best example of an independent blogger raising hell" by MetroTimes, Detroit's alternative newspaper. He was named 2011 Journalist of the Year by journalism faculty at Wayne State University. He is the author of UP THE ROUGE PADDLING DETROIT'S HIDDEN RIVER, published in 2009 by Wayne State University Press. Hardalee Press produced an audio version of UP THE ROUGE Other books by Thurtell from Hardalee Press are, PLUG NICKEL, a collection of essays about restoring wooden sailboats; SEYDOU'S CHRISTMAS TREE, the story of how a Muslim youth taught him and his wife important lessons about Christmas when they were Peace Corps volunteers in Togo; SHOESTRING REPORTER, a how-to book for aspiring journalists with the subtitle, HOW I GOT TO BE A BIG CITY REPORTER WITHOUT GOING TO J SCHOOL AND HOW YOU CAN DO IT TOO ; and his debut novel, CROSS PURPOSES, OR, IF NEWSPAPERS HAD COVERED THE CRUCIFIXION. MOUSE CODE Hardalee Press ($) ISBN: 978-0-9759969-4-2 LC: 2009906763.
Hardalee Press, 9780975996942, 52pp.
Publication Date: August 6, 2012