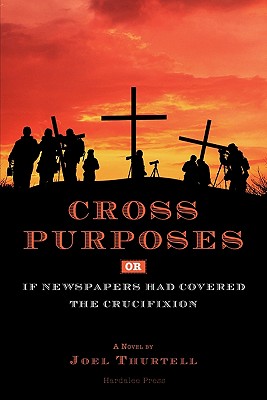 Cross Purposes, Or, If Newspapers Had Covered the Crucifixion
Paperback

* Individual store prices may vary.
Description
CROSS PURPOSES, OR, IF NEWSPAPERS HAD COVERED THE CRUCIFIXION, is a hilarious, biting satire on the news industry.Who would have thought of transporting the crucifixion of Jesus Christ into the present and assigning American newspapers to cover the story?Award-winning newspaper reporter Joel Thurtell has achieved a literary tour de force with his portrayal of this journalistic challenge in his debut novel, CROSS PURPOSES, in which the first Good Friday takes place in the present. CROSS PURPOSES is about a fictional Detroit daily that fumbles coverage of the Greatest Story. The antics of Detroit Filibuster reporters, editors and photographers are similar enough to actual newspaper behavior and mindsets to explain why the newspaper industry is in chaos."It's not all the fault of the Internet," says author Thurtell. "Stupidity and lack of common sense are huge."Writes veteran Los Angeles Times sports columnist Mike Downey: "A Detroit newspaper covers the crucifixion Stop the presses Now there's a story you don't see in the media every day "Before his death, Detroit Free Press managing editor and publisher Neal Shine read CROSS PURPOSES and told Thurtell: "Really enjoyed it. All you need is an imprimatur from the Church of Rome."CROSS PURPOSES, subtitled, IF NEWSPAPERS HAD COVERED THE CRUCIFIXION, begins with tongue in cheek, but quickly grows deadly as the stakes increase before the eyes of news gatherers blinded by prejudice, greed and ambition. Filibuster religion writer Daley Strumm encounters Filibuster-created obstacles as he tries to report the story.Thurtell was a newspaper reporter for more than thirty years at the Detroit Free Press and South Bend Tribune. He was also a Peace Corps volunteer in school and well construction in Togo, West Africa. His blog, joelontheroad.com, was named "best example of an independent blogger raising hell" by MetroTimes, Detroit's alternative newspaper.CROSS PURPOSESRelease date: April 22, 2011 Hardalee Press ($25)ISBN: 978-0-9759969-6-6LC: 2010913331For review copies and orders, contact: Adam Fonde, Promotion Director1759 Hillhurst AvenueSuite 4Los Angeles, CA 90027323-375-4018adamfonde@hardaleepress.comFor interviews, contact: Joel Thurtell734-476-1667joelthurtell@gmail.com.
Hardalee Press, 9780975996966, 192pp.
Publication Date: April 22, 2011